In the 70s, paint polish for automobiles was introduced to the market to help solve fading paints. Most of these products were car wax which gave vehicles a shiny finish and paint protection when applied. These wax products worked well but applying them was a bit difficult. Then Liquid Glass Auto Polish came into the scene – a product that wasn't made of wax that was easy to apply, leaving a long-lasting mirror-like finish. With these unique selling points, Liquid Glass won the hearts of several car owners.
In 2020, the absence of this once notorious brand has left its once esteemed customers confused, and they always asked:" "What happened to Liquid Glass Auto Polish?"
In this article, we cannot precisely answer the question. However, we can recommend an alternative for Liquid Glass Auto Polish that you will never be disappointed with it.
What Happened to Liquid Glass Auto Polish?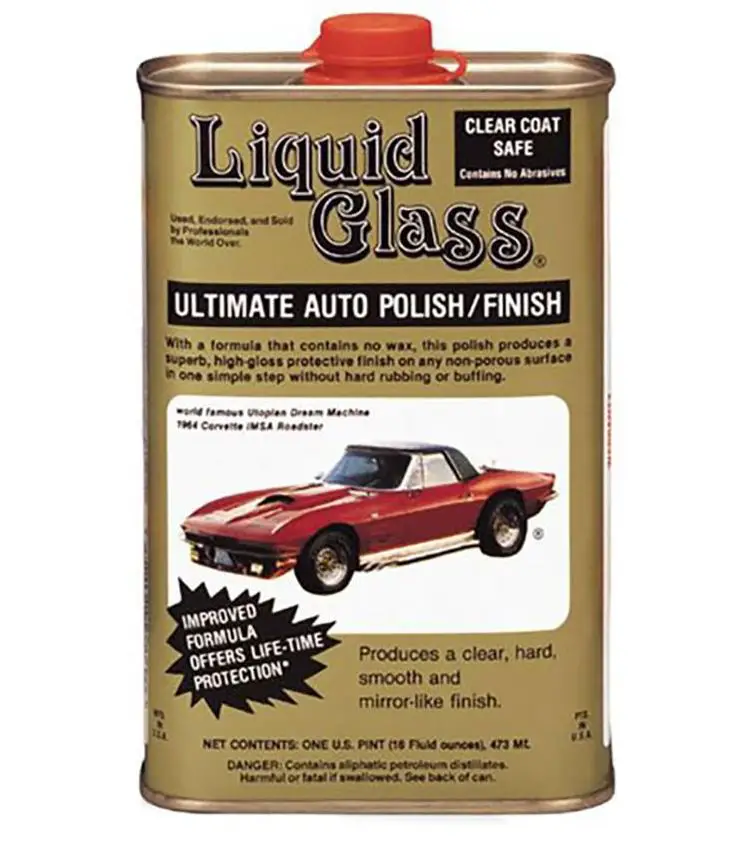 Liquid Glass was in business for over 34 years, but all indications we've been getting tell us they are out of business. What happened? We don't know. They could have gone bankrupt or changed the name of their company. At the moment, we can only speculate about what could have happened.
The company released no official statement, and the Liquid Glass website has been offline for over a year. As I know, the Liquid Glass website was last active in February 2020.
So, we don't have an answer for the "what happened to Liquid Glass Auto Polish?" question.
Is Liquid Glass Auto Polish Still Available on the market?
Sadly, Liquid Glass Auto Polish is no longer available on the market. If you check on e-commerce platforms, you'll see that the product is out of stock on all of them. Even the guys at Autobarn have tried contacting the company, but they haven't gotten a response from them.
The sudden disappearance of Liquid Glass products from the market has left its users in search of alternatives.
Alternative for Liquid Glass Auto Polish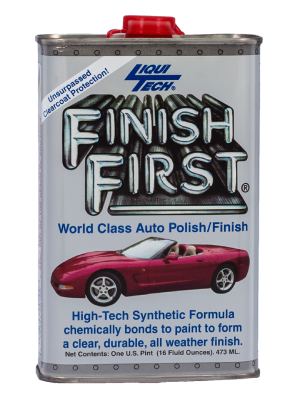 Liquid Glass was loved because it was easy to use, and the coatings lasted for over a long period. One of my customers said: "I have about ten coats [of Liquid Glass] on my 1985 Cutlass Supreme, and it still looks like it just left the showroom!"
So, we went in search of a worthy alternative to this great auto polish. The best alternative we have found so far is the LiquiTech Finish First Auto Polish.
Is LiquiTech's Finish First a worthy alternative? We'll find out as we assess the performance of both products and compare results.
| | Liquid Glass Auto Polish | LiquiTech Finish First Auto Polish |
| --- | --- | --- |
| Finishes | Shiny look, mirror-like | High-gloss, shiny, mirror-like |
| Usage | Easy to use | Easy to apply and easy to wipe off |
| Where to apply | Any hard, non-porous and painted surfaces ,acrylic, enamel, clear coat, fiberglass, metallic | On hard, non-porous and painted surfaces ,acrylic, enamel, clear coat, fiberglass, metallic |
| Durability | Very durable | Very durable |
| Drying time | About 10 - 15 minutes to dry up (when you notice a haze formed). | At least 15 minutes for curing and bonding after application |
| Waiting time after the first coating | 4 hours | 1 hour |
| Cost | Average of $35 | Average of $26 |
Liquid Glass Auto Polish vs. Finish First Auto Polish: Summary Comparison
Similarity
Liquid Glass and LiquiTech are very similar products, even their cans and the product packaging look the same.
Besides look, packaging, and smell, Liquid Glass and LiquiTech's Auto Polish are similar in other aspects, as you can see in our comparison table.
Let's start with the method of application. With both products, all you have to do is apply a small amount of the sealant on a section of your car (or the surface you want polished). Then, you spread the product with an applicator pad. You wait for about 10 – 15 minutes for it to dry, then wipe it off easily with a rag. Both sealants are easy to apply and easy to wipe off.
For the finishing, they both give a similar smooth feel and shine that has always been associated with Liquid Glass.
But, What's the Difference?
If you've been a loyal Liquid Glass customer, the first difference you'll notice about these two products is their prices. LiquiTech Finish First is about $10 cheaper than Liquid Glass. This is great because you still get Liquid Glass'sGlass's packaging, finishing look, and durability at a cheaper rate.
Besides the prices, the next thing you'd notice is the time required to wait after the first coating has been applied. For Liquid Glass, it was 4 hours (this was a long time to wait). However, LiquiTech says you apply a second coating after waiting for at least 60 minutes (1 hour).
Most users find it hard to believe these products are different. They feel Liquid Glass just changed their name to LiquiTech.
What can Finish First Auto Polish do?
Finish First serves the same purpose as Liquid Glass. It does the following:
Protects your paint from harsh weather and contaminants
Gives a mirror-like finish
Removes light scratches and covers swirl marks on your vehicles
Hardens your paint surface to resist acid rains, tars, tree saps, and others
How to use Finish First Auto Polish properly?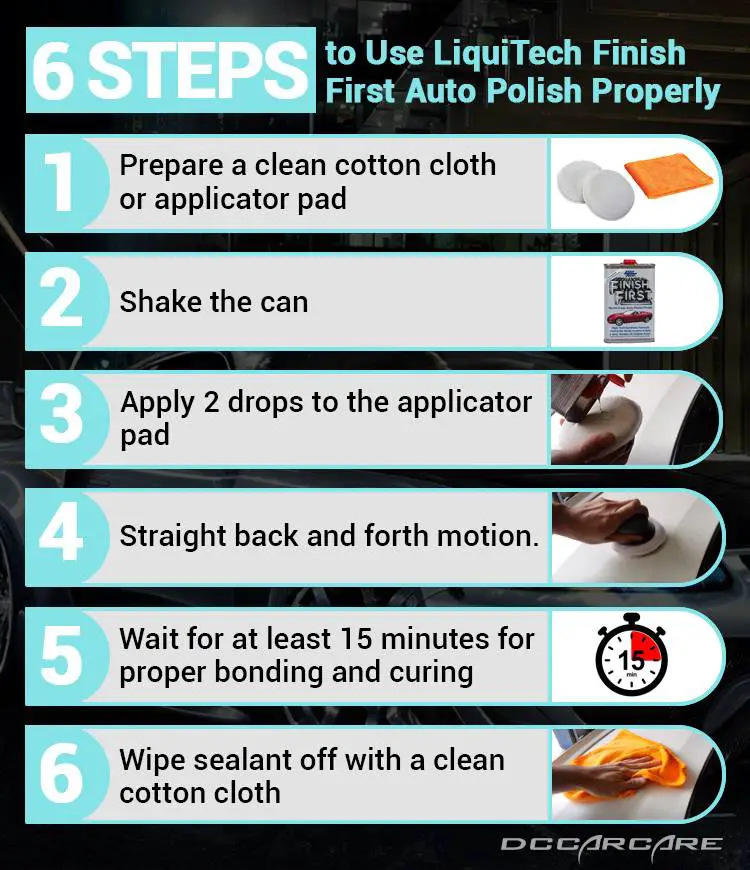 To get the best results, you need to invest some time into preparing your car for the polish. So, you should start by washing your vehicles with your preferred wash products. Or, you can make use of the Finish First Wash and Conditioner.
The product doesn't matter as long as it gets the car clean.
Then, the next thing you should do is prepare your vehicle's paint for the Finish First Polish. Doing this helps remove contaminants on your paint and stops oxidation. Again, you can use your preferred product for this step, or you can make use of the Finish First Finish Prep product, your call.
Below is the right way to do it:
#Step 1: Prepare a clean cotton cloth or an applicator pad
#Step 2: Shake the can properly. Give the sealant a good mix by shaking the can properly before applying it to your vehicle.
#Step 3: Apply two (2) drops of polish to a clean cotton cloth or applicator pad. Two drops of the sealant are about the size of a dime, and it'll cover up to 1 square feet area.
#Step 4: Apply straight back and forth motion
# Step 5: Allow the sealant to dry for at least 15 minutes for proper bonding and curing. If you decide to dry it longer than 15 minutes, ensure it does not exceed 2 hours.
#Step 6:Wipe sealant off. Use a clean cotton cloth to remove the sealant ( it comes off easily).
Notes:
Ensure the surface is cool. If it's a sunny day and the surface of your car feels a bit hot, it might not be the ideal time to apply the product.
For your first use, apply a second coating after 60 minutes is recommended. If you're using Finish First Polish for the first time, the manufacturer recommends you have a two-coat application for proper bonding. On subsequent applications, you can apply it once.
The outlined steps are easy to follow. And, if you've been a loyal customer of Liquid Glass, you're already used to these procedures. So, prep your car correctly for that showroom mirror-like finish.
Conclusion
Car enthusiasts and lovers of Liquid Glass Auto Polish have gotten a worthy alternative. Finish First is as durable as Liquid Glass, gives the same high-gloss finish with that glass feel. And, it offers so much value at a more affordable price. If Liquid Glass were still in the market today, Finish First would have been a strong competition.
Read more: How To Use Nu Finish