Even though there are many products out there for protecting vehicles, you need to know what they do before putting them in your car. You probably do not want to spend money on a product such as a polish only to realize later that you are damaging your vehicle.
In this article, we offer you valuable information about Nu Finish Polish. Do you know what it is, its purpose, and how to use it? Let's help you answer some of these easy yet tricky questions.
Get these professional insights and tips so you don't go wrong.
What Is Nu Finish?
Nu Finish is a car sealant that offers protection and keeps your car shiny. It's a 100% synthetic product that contains no wax, and it is easy to apply. You should not, however, confuse it with other normal waxes/polishes. Nu Finish does more than what these waxes/polishes do for your car.
So who should use this product? Well, if you live in areas where the environment is a little bit harsh, then this polish might be good for you. It helps in areas where rain, snow, dust, and other elements threaten to damage you otherwise good-looking vehicle.
How to Use Nu Finish?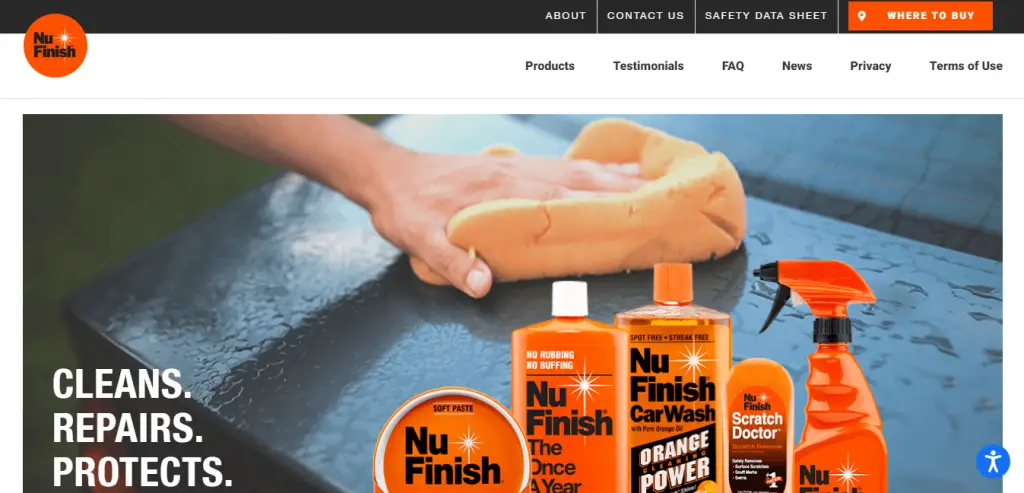 Now that you know that this polish works as a protective product, how should you apply it? It's simple, but you need to be a little bit extra careful. It comes as a liquid formula and as a paste as well. Whichever option you use, you will get the same results. It is only the application that is different.
When you order this product, you'll most likely get a 16-ounce bottle. You will also get in the same package a microfiber cloth that you will use for the application. You, therefore, do not need to buy any machine for use in the application.
To apply the polish, use the microfiber cloth to apply the polish. More precisely, use the cloth to rub the polish on your car. It takes just a few minutes to complete the application.
Here is an easy procedure you can follow to correctly apply Nu Finish:
First, apply a restorative product of your choice
Use a damp microfiber and take a dime-sized amount of the polish
Spread the polish evenly on a small area at a time
Apply it to the whole vehicle concentrating, especially on those surfaces exposed directly to the sun, rain, and other elements
Give it a few minutes to dry
Rub off when immediately you notice that the polish has started to haze
Do the rubbing on the entire vehicle.
*Note: Areas You Should Avoid When Applying Nu Finish and How to Store It
As a precaution, you should be careful not to apply the polish on plastic or rubber trims. What happens? It will leave white marks. While you can do away with the marks using a product such as WD-40, the plastic or trim won't regain its original blackness. You, of course, won't be happy to have a faded trim or plastic, so be extra careful when applying the polish.
Once you complete the process, you protect your vehicle from harsh weather conditions that often cause damage. But that's not all? What happens to the liquid or paste that remains? Also, how long should you stay before you apply next?
Nu Finish has a long shelf life meaning you can keep what remains for several months or even up to a year. You only need to keep it in a cool dry place. Most importantly, make sure that the container is air-tight. If you expose it to air, the liquid will appear to be separate from the white past. That should not, however, worry you. Stirring it will restore it.
If you keep your well without exposing it to damaging elements, tests have proven that your Nu Finish will last for up to a year. You can achieve that if you wash your car often or, at least, once every week, so your polish remains looking great.
When it comes to the second application, it is good to do it after 30 days. What's its role? It helps remove oxidation and also offers maximum protection to your vehicle. You might not notice oxidation almost immediately, but after 30 days, it will be visible, if any. So let your second application be after that period.
Pros and Cons
You'll find a lot of information about Nu Finish, but as a user, you need to narrow down to just a few facts useful for you. More precisely, you should know the pros as well as the cons of using this car product.
Here is our quick review of both sides:
Pros
It offers the best protection to your car, bike, or boat and other vehicles
It is an effective product against corrosion and UV rays
It is easy to use, and you don't need any special machine to apply the polish
You can even do the polishing on the sun
It adds a great-looking and glossy shine to your vehicle
It lasts longer for several months to a whole year on your vehicle
Cons
It can leave white marks on rubber or plastic rims
Can leave some swirl marks
Similar Choices/Alternatives
Nu Finish does a good job when you apply to your vehicle. However, as you have already noted, there is one downside to this product. It is not good for the rims. In that case, you might think of getting another alternative that does the same work as Nu Finish and maybe is a bit fair to the rims as well.
Also, if you are looking for the best glossy shine, Nu Finish might not be the best in that feature, at least, compared to others. So, knowing an alternative will help you get a product that will meet your needs fully.
Here are some alternatives you might consider:
If you want the best glossy shine, this is the best alternative. It won't leave any white residues as well, especially on the rims.
It does a similar job as Nu Finish but won't stain your rims in case of the polish touches it accidentally during the application.
Outro
Without a doubt, there are many solid reasons that you should consider applying Nu Finish to your vehicle. For instance, you can apply it yourself, it offers protection, and your car will also look shiny if you maintain it well.
After reading this review, you now have all the right information to help you make an informed decision. Won't you?
Go for the paint and keep your vehicle safe from harsh environmental conditions!
Frequently Asked Questions
1.How Do I Remove the White Haze Left on My Automobile?
You can use mineral spirits to remove it. Usually, polishes such as Nu Finish often have a cleaner that leaves the white haze, especially on dark rims. To get rid of it, get a spirit and use something like a toothbrush, so you get to the deep pores and remove it effectively.
2. Does Nu Finish Protect Vehicles from UVA/UVB
Yes, Nu Finish offers protection against UV rays. So, if you live in areas when the effect of UV rays is the worst, applying Nu Finish will help you keep your vehicle safe for one year.
3. Does Nu Finish Include Silicone? Is that Bad for My Car paint?
Yes, Nu Finish, indeed, contains silicone, but that should not be a cause of worry for you. For your information, all car polishes, by the way, contain silicone. The purpose of adding this component to the polish is for lubricity. It is, therefore, not bad for your car paint. You need to make sure that you are applying the finish to a dry surface. The only time you should worry is when you apply paint to the one that you recently polished with Nu Finish.
4. Can I Apply Nu Finish Under Direct Sunlight?
Yes, it is okay to apply the finish on a bright sunny day. It is different from the usual waxes that often pose problems if you put it under direct sunlight. The manufacturer made Nu Finish in a way that even if in direct sunlight, will not bake into the surface of your vehicle, as is usually the case with conventional waxes. You can easily remove the polish without any hassle.
5. Which Part Shouldn't I Polish with Nu Finish?
You should not apply Nu Finish polish on some parts, including rubber paint, vinyl, simulated wood, and plastic rims. Additionally, you should not put it on bathtubs and tile floors as well. The polish will not necessarily cause damage, but these parts might become very slippery hence causing injuries you would otherwise avoid.
Read more: HOW MUCH CLEAR COAT TO PAINT A CAR?