There are many benefits to wrapping your car. First, it protects your paint job from nicks, scratches, and sun damage. Second, it can increase the resale value of your car. Third, it makes your car more visible on the road, which can help you avoid accidents. And finally, it can make your car look more stylish and unique.
But how much does it cost to wrap a car?
Today's post will give you the estimated cost and some information about car wrapping.
Car Wrap Cost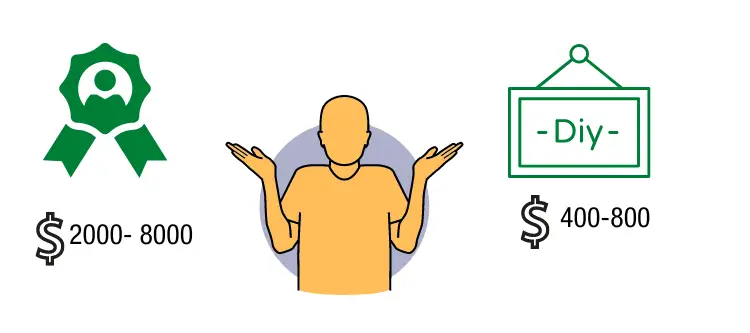 Made by Professional:
The cost of wrapping your car depends on a few factors, including the size of your car, the type of wrap you choose, and the quality of the materials. Generally speaking, you can expect to pay between $2000 and $8,000 to have your car wrapped by a professional. If you have a larger car or you want a more intricate design, you may have to pay more. But if you choose a simple wrap and you have a smaller car, you can expect to pay on the lower end of that scale.
Made by DIY: 
You can wrap the car yourself if you have experience, technical knowledge, tools, patience, and time. If not, I don't recommend you do it yourself. It may cause a terrible result that wastes time and money.
The basic cost of DIY Car Wrap is between $400 and $800, not including technical tools. 
Needed materials for DIY car wrap:
Teflon-coated back cutter: $15-$50
Air compressor: $150-$250
Soft Measuring Tape: $4 – $10
Microfiber towels: $6-$10
Gloves (lint-free): $14-$22
Types Of Car Wrap
There are two main types of car wraps: full wraps and partial wraps.
Full wraps cover the entire car, from the hood to the trunk. While partial wraps only cover a portion of the car, such as the hood, roof, or sides.
The type of wrap you choose will depend on your budget and how much coverage you want.
Car Wrap Materials
The most common material used for car wraps is vinyl. Vinyl is a durable material that can withstand the elements and protect your paint job. It comes in a variety of colors and designs, so you can find one that matches your style. Other materials used for car wraps include polyurethane, polyethylene terephthalate (PET), and cast vinyl.
How Long Does A Car Wrap Last?
A car wrap can last for several years, but it will eventually start to fade and show signs of wear. The lifespan of a car wrap depends on the quality of the materials used, how well it was installed, and how well you take care of it.
Pros & Cons Of Car Wrap
There are both pros and cons to wrap your car. 
The main pros is it can protect your paint job and you can change the car colors flexibly if you want. It also increases the resale value of your car. 
The main con is it is expensive, and it may not last as long as you would like.
Standard Automotive Vinyl Wraps To Buy
Black Matte Car Wrap Vinyl Roll
VViViD Carbon Fiber Car Wrap Vinyl Roll 
Watch the below video from VViVid about a guide to vinyl wrapping a car for beginners.