Keep your eyes on the road with the best windshield water repellent. The most reliable options make the windshield hydrophobic such that water beads off. You get to enjoy perfect visibility amidst snow, fog, and rainstorms at highway speeds.
Ultimately, you want the highest efficacy from the best windshield treatment that you choose. But you don't need to go at on a trial-and-error basis.
Based on my experience and my customer feedbacks, I can now reveal three of the best hydrophobic windshield coatings for their longevity, efficiency, and reasonable pricing.
3 Best Windshield Water Repellent
Must Buy
Best Seller
Best Budget
G1 ClearVision Smart Glass
Rain-X Original Water Repellent
Invisible Glass Rain Repellent
Price Range
$60 and up
Check Price

$8-$15 and up
Check Price
$5 and up
Check Price
Overall Score
9.5/10
7.6/10
5.8/10
Summary
A true glass coating that uses nanotech to repel rain. It creates an extremely hydrophobic surface, ideal for wet climates.
Effective and budget-friendly, Rain X is versatile stuff for the windshield, mirrors, and headlights.
This product protects windshields from water ice, and frost build up. It's easy to use in one step and provide a streak-free shine.
Key Features
- It lasts up to 30,000 miles
- Wiper blade proof
- Strong hydrophobic coating

- Silicone-based
- Affordable
- Simple application
- Water beading technology

- Improve up to 25% for driver's visibility.
- Very cheap
- Keep the water beading off the glass
Longevity
2 years
30-45 days
30-45 days
Check Price
Check Price
Check Price
1. Gtechniq – G1
Gtechniq – G1 is one of the best windshield treatments on the market today. It has serious water-repelling properties. But you have to pay a little more than other options.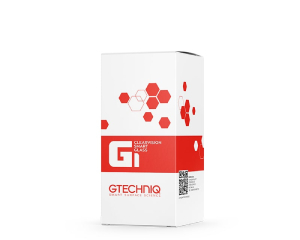 Gtechniq – G1 ClearVision Smart Glass
Pros
It lasts up to two years
Nanotechnology-based
Repels water, dust, and mud
It comes as a two-bottle solution
Cons
Application is lengthy
Loses some water-repelling capabilities after one year
Why Gtechniq?
This windshield treatment uses nanotechnology to provide a superior hydrophobic coating on the windshield surface. The ultra-long lasting film bonds chemically to the glass particles. The result is a coating that is extremely water repellent, but it also makes removing dirt and bugs easier.
Gtechniq – G1 is ideal for both wet & dry climates. It surpasses other products owing to its extremely long life. It holds up well in inclement weather, including snow and fog.
Thanks to the strong bond, this product can last up to two years. However, it comes with a little trade-off in the effectiveness. After one year, most people notice that it loses some of its water-repelling properties.
How To Use Gtechniq-1?
Applying Gtechniq – G1 is not complicated. But it's a bit tasking. This product needs to be applied in temperatures between 41-86 degrees Fahrenheit. It should not be under direct sunlight.
You will need a pair of nitrile or latex gloves to protect your hands.
Use a good glass cleaner like the G6 to remove any oil or dust- any debris will prevent proper bonding of the coating to the glass
Remove contaminants with the G4 glass nano polish
Clean the glass one more time with the glass cleaner
Now, use the application pad to wipe G1 on the glass surface
Apply three coatings five minutes apart.
Wait for the coating to cure
After curing, apply the G2 residue remover and buff off the residue using a cotton cloth
Finally, clean your wiper blades thoroughly to prevent surface judder, which will affect G1's performance.
Gtechniq – G1 works like a charm. No matter the weather, you can count on it for long-lasting results.
2. Rain X Original Windshield Treatment
Rain X is perhaps the most recognizable windshield water repellent. The brand offers a fairly-priced solution in a silicone-based formula.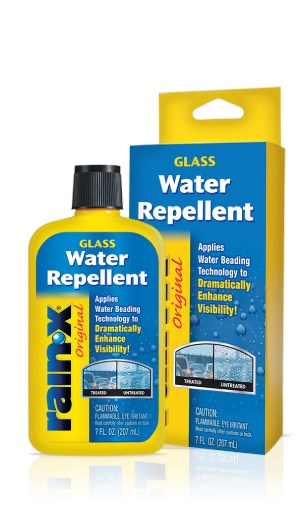 Rain-X Original Windshield Treatment Glass Water Repellent
Pros
Affordable
Wards off bugs, dirt, and debris
It can be used on other glass surfaces
Water beading technology
Easy application process
Cons
Can streak during application
Needs frequent reapplication
Why Rain X Original?
This brand uses water beading technology to keep the windscreen clear in all weather conditions. It repels not only rainwater but also snow and sleet. Thanks to its hydrophobic formula, water and road grime simply rolls away.
Rain X works excellent in most climates. Although it is not a long-lasting treatment, it can keep off the grimy mixture of salt, snow, and dirt that get flung at you in winter. It also makes it easy to remove snow and ice.
Since this is a silicone-based product, you can expect to reapply it in 45 days. But then it comes cheap, reapplying it is worth the effort.
How To Use Rain X ?
Rain X is simple to use.
On a clean windshield, build an even coat with a clean microfiber cloth or buffing pad. You will need to buff aggressively to prevent streaking or hazing. You still need two coats to create a long-lasting surface.
Everything about the Rain X original screams authentic. It's a highly-effective product that comes very common in the market.
3. Invisible Glass Cleaner with Rain Repellent
Invisible Glass Water Repellent is a versatile solution that's super easy to use. It comes in one easy step. Apart from automotive glass, you can also use it on residential glass.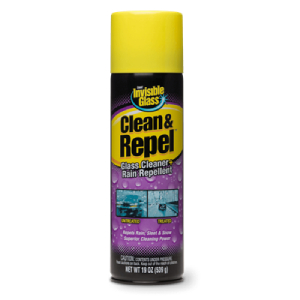 Invisible Glass Cleaner with Rain Repellent
Pros
Improve driver visibility up to 25%
It uses the neverwet formula
Simple application
Very cheap price
Don't contain harsh detergents, dyes, and ammonia,
Cons
It has a strong smell
Only use for exterior
Why Invisible Glass?
This glass treatment creates a moisture barrier that keeps windshields and glass surfaces free of water. With the help of the Neverwet formula, this product creates a coating that can repel water, mud, ice, and other substances.
Water forms spheres on the windscreen and rolls of the surface, giving you clear visibility.
This water repellent treatment is perfect for areas that have high humidity. It helps to improve driving safety during poor visibility from torrential rains or fog.
Invisible Glass typically lasts up to 45 days. Since it does not use advanced technology, it needs frequent reapplication to maintain its efficacy.
How To Use Invisible Glass?
Like Gtechniq – G1, you still need to start with a clean glass surface. Then give the bottle a serious shake and be in latex gloves. All you need is to apply Invisible Glass on a microfiber towel and apply it to the windscreen.
You will need two coatings and buffing with a clean cloth five minutes after each application. And you're done. The coating cures completely in only ten minutes.
Invisible Glass creates a decent water repellent film that makes driving safer and easier. What's more, its super easy application process makes it an attractive option for every car owner.
---
Things To Consider Before Buying the Best Windshield Water Repellent
There's a wide range of options for windshield treatments. They all promise to improve visibility and safety when driving. But by now, you know that are not built the same. Some just help the wipers work better, while others do an excellent job of pushing water drops when you accelerate.
Here are the essentials to consider when buying a hydrophobic windshield coating.
Your Location and Climate
Where you live and climate significantly impact the efficiency of a windshield treatment. Depending on the type, you will find that some have outstanding water behavior. This means that the coating causes water to bead up and slide off easily from a glass surface.
If your area receives lots of rain, you will want a treatment that holds up well against inclement weather. It would help if you also considered whether or not you need it to resist snow and salt.
On the other hand, you will find some windshield water repellents are superior in dry weather. They can keep off streaks and spots. But they are not very good at repelling water.
Meanwhile, a quality windshield treatment can provide water-repelling features no matter the climatic conditions.
Longevity
The type of windshield water repellent will determine how long it lasts.
Nanotechnology-Based: The best hydrophobic windshield coating comes in a nanotechnology-based mixture. This formula forms a strong bond between the actual silica particles in the windshield and the treatment solution. Nanotechnology-based windshield treatments offer years of service.
Fluorinated-Based: Still a suitable compound, but you get to save some money. Fluorinated-based offer water beading technology. But they are not as effective as nanotechnology-based treatments.
Silicon-Based: Considered the weakest of the three, a silicon-based treatment does not last long. It does not offer a strong bond between the glass surface and the treatment. As a result, it needs to reapply frequently.
Recommendation: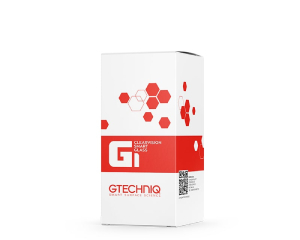 Gtechniq – G1 ClearVision Smart Glass
Ease-Of-Use
Some glass treatments are more involved than others in the application. For example, in the Gtechniq – G1, you need three layers of the product applied five minutes apart. It also needs applying in temperatures between 41 degrees Fahrenheit and 86 degrees Fahrenheit. There's a specific step-by-step method to ensure you get a perfect finish.
Some people may feel intimated by the application process of Gtechniq – G1. Hence you may choose a treatment that needs only one layer application. However, you may need to redo the application more frequently than if you went for the Gtechniq – G1 bottle.
It's always best to ensure if the glass treatment is applicable in your weather conditions. And whether or not you can manage the application process.
Recommendation: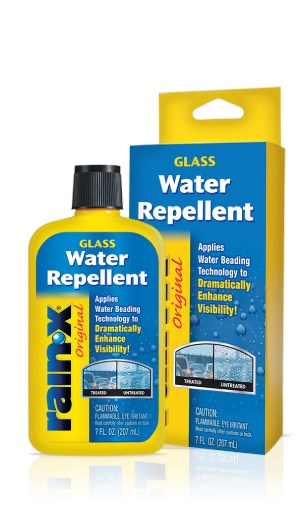 Rain-X Original Water Repellent
Price
Windshield water repellents range in price from under $10 to over $60. Cheap options are often silicone-based. As such, you will need to apply the treatment frequently. It's not ideal if you live in a very wet climate. This is because you will buy the product so many times that it makes sense to go for the more expensive option.
In the midrange price, options are fluorinated-based treatments. They last a little longer, say 12 months. In this case, you will want to find a product that can survive all seasons. That includes dirt and snow.
High-end options provide an all-season protective barrier. It also protects the windshield from nicks, scratches, streaks, and spots. Typically, a high-end hydrophobic glass treatment can last up to two years.
Recommendation: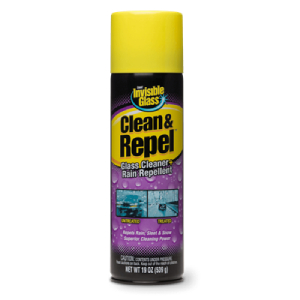 Invisible Glass Rain Repellent
---
Sum up
We hope this guide helps you choose the best windshield water repellent. Of the three choices, Gtechniq-G1 lasts the longest. But it costs a tad more than the others. If you find the application process tedious or complicated, you may want to consider the Rain X . However, it means reapplication will be in two months.
And for those looking for a budget-friendly option, Invisble Glass is an all-time favorite. Grab it for superior water beading properties.
And remember, quality wiper blades are as important as an effective water repellent.
You many concern: 3 Quick Tips to Remove Inspection Stickers You Must Know