Don't wait till it Cracks!
The surface material of your vehicle's dashboard loses its original look and feel over time. And, if you don't take good care of your car's interior, they get dried up and crack eventually – especially in a bad weathered environment.
Thankfully, there are great products in the market that keep your car interiors looking as good as new—protecting your dashboards and other interior surfaces from UV rays, dust, oxidation, and other harmful stuff.
In this article, we'll go through an in-depth comparison of the biggest players in the car protection market. 303 protectant vs. Armor all vs. Meguiars – who wins?
But before we go into our detailed review, I'd like to address a popular misconception about Armor All.
A Little History Lesson
Back in the 70s, interior protectants weren't familiar. The 'good old days' desperately needed good protectors, but when the first protector hit the market, they weren't ready for it.
Armor All was the first car protector to hit the market, but I'd say they came in at the wrong time.
Why?
They took the fall for damages they didn't create. The domestic vehicles out in the market in 1975 had interiors of poor quality (usually plastics). Since there was no product to use back then, the dashboards were left without care. Then, the plastics dried up over the years.
So, what happened when Armor all hit the product?
As you'd expect, a lot of people jumped on it. But later, most dashboards got split or cracked after the product was applied to them. However, the product wasn't the problem. The plastic dashboards were already damaged. It just needed a little push – simply using water would have caused similar damage.
Sadly, this ruined Armour All's reputation. Like I said earlier, Armor All is a great product, but it hit the market at the wrong time.
303 Protectant vs. Armor all vs. Meguiars: Detailed Comparison

303 UV Protectant Spray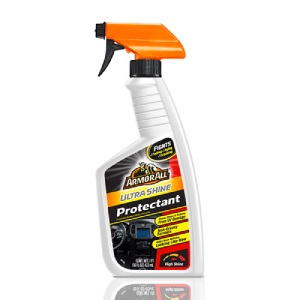 Armor All Car Cleaner & Protectant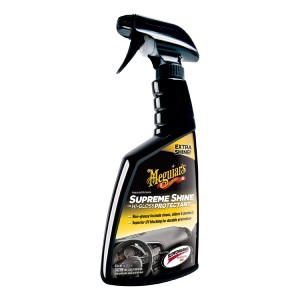 Meguiar's Supreme Shine Protectant
| | | | |
| --- | --- | --- | --- |
| Finishing Look | 10/10 | 8/10 | 10/10 |
| UV Protection | 10/10 | 6/10 | 6/10 |
| Smells | 7/10 | 9/10 | 10/10 |
| Safety | 7/10 | 8/10 | 8/10 |
| Average score | 8.2/10 | 8.2/10 | 8.6/10 |
| | | | |
Ingredients & Surfaces
Taking a close look at the 303 Protectant's Safety Data Sheet (SDS), we see that the product is made of 75% water. Well, it's expected to have water; 303 is a waterborne spray. Moreover, this supports their description as a non-petroleum or oil-based product.
For Armor All, we don't get to see much detail about its constituents. On the Consumer Product Information Database, the chemicals listed for Armor All protectants are; non-hazardous ingredients (95.0%) and mineral oil (<5%). This doesn't give us much detail. But based on product usage, it is obvious it's a waterborne spray like the 303 protectants.
Meguiars doesn't give much information either. There are only two ingredients listed on the product's safety data sheet; Sodium Di(2-Ethylhexyl) Sulfosuccinate and 2-Aminoisobutano. Like the other protectant products mentioned, their key ingredients are patented and are not listed. However, hazardous substances (if any) would be listed.
Overall, all three products are waterborne sprays. They all serve the same purpose using different ingredients. So, for this round of 303 Protectant vs. Armor all vs. Meguiars, we have a tie. Why? There's a lot we don't know about the ingredients used.
But, we know that Meguairs contains petroleum distillates (it's written on the bottle ), but they claim their ingredients aren't bad for leather and plastics. Armor All claims they do not contain alcohol and petroleum distillates. Likewise, 303 Protectant claims to be a 100% water-based product without alcohol and petroleum distillates.
We can take their words for it. But, being a skeptic, I'll keep all products on the same level because patent laws protect other ingredients. So, we can't say we know they're truly made of without a shred of doubt.
Which has better finishing look ?
We all have different tastes. Some want their dashboards and other aspects of their interiors to look shiny. In contrast, others prefer a more natural look on their interiors. If you want a more greasy look on your interiors, then Armor All might be the ideal protectant for you.
On the contrary, the finish looks you get from Meguairs, and the 303 Aerospace protectant are pretty similar. In fact, it's hard to tell them apart.
Let's take a look at the image below.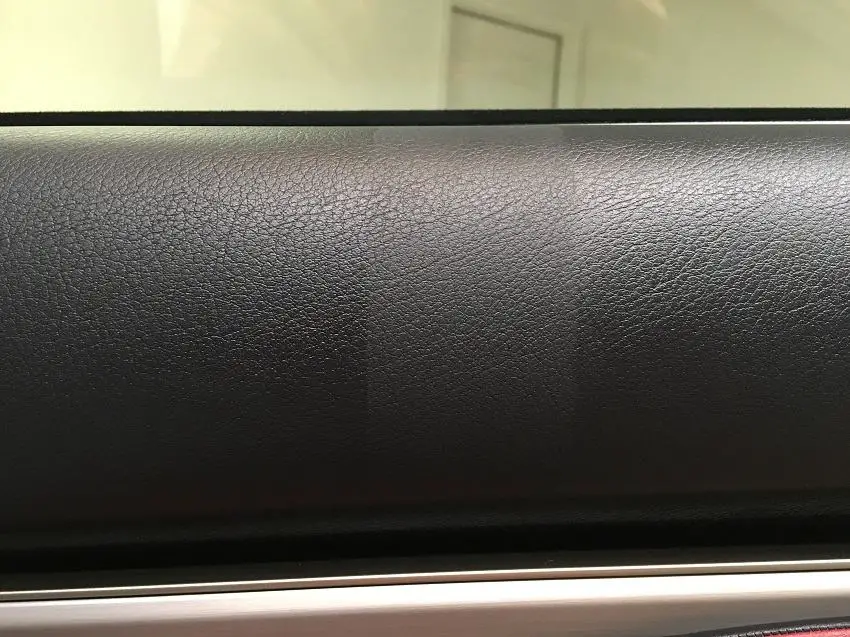 In the image, one section of the door interior was detailed with a 303 Protector, while the other section of the surface had Meguiars Protectant applied on it. Both sections give almost similar finishing (if not the same type of finishing look).
Now, for the big reveal.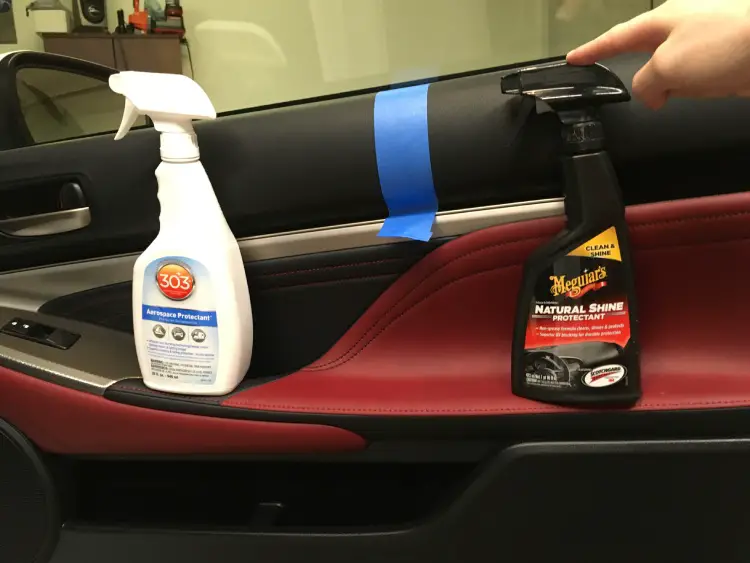 So, you get a similar finishing look with 303 and Megs, while Armor All gives you a more glossy look that isn't slippery (it's water-based).
If you're a 'natural look' lover, then we recommend you choose between the 303 Protectant or Meguiars Ultimate Protector. But, if you want that glossy look without the oily feel, then Armor All is right for you.  
Which has the highest UV Protection ?
Another important factor to consider in our 303 Protectant vs. Armor All vs. Meguiars comparison is the amount of UV protection each product offers. UV rays cause vehicle interiors to lose their original color, dry out, and eventually crack. That is why the level of UV protection offered is an important point to consider.
But, how can we accurately tell the amount of UV protection these protectant sprays offer?
The 303s, Megs, and Armor All all claim to offer UV protection. Since we don't have a meter to test their claims, we'll rely on social proof.
The MSN News compiled a list of ten of the best-selling UV protectant sprays for cars. And, 303 Protectants came in the top three. The MSN's list was compiled based on over 13,000 reviews across several stores.

Meguiars also come next as the people's go-to protectant against the damaging rays from the sun.
Then Armor all is the least used (probably due to its maligned reputation).
Which has comfortable smells ?
It feels great to have your car interiors looking good as new. What's even better is not having to perceive nasty chemicals in your car for weeks. Some protectants work great, but they smell bad.
Based on my experience and customer's feedbacks, we see that 303 Protectant leaves a stronger odor compared to Meguiars and Armor All. Meguiars Natural Shine is said to have a more pleasant smell.
But, it's important to say that 303's odor doesn't last long. It leaves a strong smell when applied, But the order dies out within a few hours.
So, Meguiars Protectant turns out to be our winner for this round of 303 Protectant vs. Armor All vs. Meguiars.
Which is the cheapest?
The price of the product might be a determining factor after all.
We found this:
Armor All Original Protectant – From $8.88 for the 16 Fl. oz bottle (without shipping fees)
303 Protectant – From $15.19 for the 16 Fl. oz bottle (without shipping fees)
Meguiar Natural Shine Protectant – From $14.44 for the 16 Fl. oz bottle (without shipping fees)
The prices differ across stores. Armor All protectant is the cheapest on our list. Meguiars Natural Shine Protectant comes second, while 303 Protectant is the most expensive product on our list.
So, if you're on a tight budget, Armor All might be the best Protectant for you at this point.
Pros & Cons Comparison Table
303 Protectant
Armor All
Meguiars
Pros
- Great finishing look
- Holds up well in the long run.
- Trusted for UV protection.
- Waterborne spray (non-greasy).
- Cheapest cost.
- Doesn't leave an odor on interior surfaces.
- High-gloss finish (for lovers of shiny finishing).
- Water-based protectant spray.
- Great finishing look.
- Averagely priced .
- Holds up well in the long run.
- Smells good.
- Non-greasy feel.
Cons
- the most expensive option
- Leaves an odor on the surfaces
- Picks up dust faster than the 303 Protectant and Meguiars.
- Fades faster than the other products analyzed
- Leaves a little grease (for those that don't like shiny finish)
- Not trusted for UV protection.
- Not trusted for UV protection.
Although Armor All is a water-based spray, it still leaves a noticeable amount of grease compared to the others. From our findings, Meguairs seems to come up as a promising prospect.
In the concluding section of our 303 Protectant vs. Armor All vs. Meguiar comparison, we'd see which products offer the most value.
Notes
Here are some safety tips you should take note of while handling these products:
Use only with adequate ventilation
Wear the required personal protective equipment (gloves, eye protection, etc.)
Avoid direct contact
Do not breathe in vapors, mist, or spray
Do not have direct contact with eyes, skin, and clothing
Wash your hands thoroughly with soap and water after handling and before eating, drinking, or using tobacco
These precautions are listed on the safety data sheets of each product. Moreover, if you live in California, you should go through the 303 Protectant SDS. On the CPID website, Ethylene Glycol (an ingredient of 303 Protectant) is flagged as a Chemical of Concern (CoC) in California. So, you might want to check that out. Moving on, we'll be giving each product a score based on our findings.
303 Protectant vs. Armor All vs. Meguiars – Our Recommendations
Based on the results from our comparison table, Meguiars Natural Shine Protectant turns out to be the best product to get based on the factors we considered.
303 Aerospace Protectant and Armor All got the same score based on our findings, each having a score of 8.2/10.
All the products reviewed scored about 5. This shows they all perform above average and are worth buying.
But, to go down into more specifics, we've awarded each product as follows:
Read more:
What Happened to Liquid Glass Auto Polish?