A California car duster is a must-have in every car owner's auto care toolkit. Whether you have an everyday commute or classic car, keeping it in tip-top condition after a wash, polish, or wax project is a top priority. 
With a California duster, you get hassle-free, fast, and easy polishing between washes. 
Is yours undergoing heavy use that you are wondering whether to clean it or just throw it out?  
Although a california duster is designed to work for years without being cleaned, it will occasionally need actual cleaning.
Let's get to the nitty-gritty of how to clean a California duster.          
Is California Car Duster Good?
The original California car duster is a legend in car detailing. It gives you speed and efficiency, making it your best choice for quick detailing on the go. 
The secret is in its micro-fiber cotton fibers with special paraffin wax treatment, baked into the strands. You will watch as dust and pollen get lifted and removed from the vehicle as you dust your car. Unlike other dusters, a California dust traps dust particles rather than moving them around. 
Because of how it's made, this car duster does not leave streaks, smears, or damage the car's paint. The cotton fibers are overstuffed in the head. As a result, they can pick up dust and pollen particles in a cinch. Owing to its unique construction, dusting is always fast and effective.
Accordingly, it saves you time and money since you won't be washing your car now and then.
Using your car duster comes down to technique. Simply, use the duster without pressing the fibers down on the paint. Then, apply as little pressure as possible to wipe the dust in one direction.
Buy a California Car Duster below:
Original California Car Duster
How Long Does a California Duster Last?
Typically, a California duster can last 10-15 years without the need for replacement. As we mentioned, the duster has wax-treated fibers, which efficiently pick dust without washing after use. This process is costly and takes time. As such, you'll pay a bit more than what is universally available.
Thanks to its cotton blended mop head, it can go for as long as possible you'd like without ever rinsing the duster with water. This goes along with the company's motto; "the dirtier it gets, the better it works." Most people have attested they've never seen anything like it before.
How To Clean A California Duster Correctly When It's So Dirty?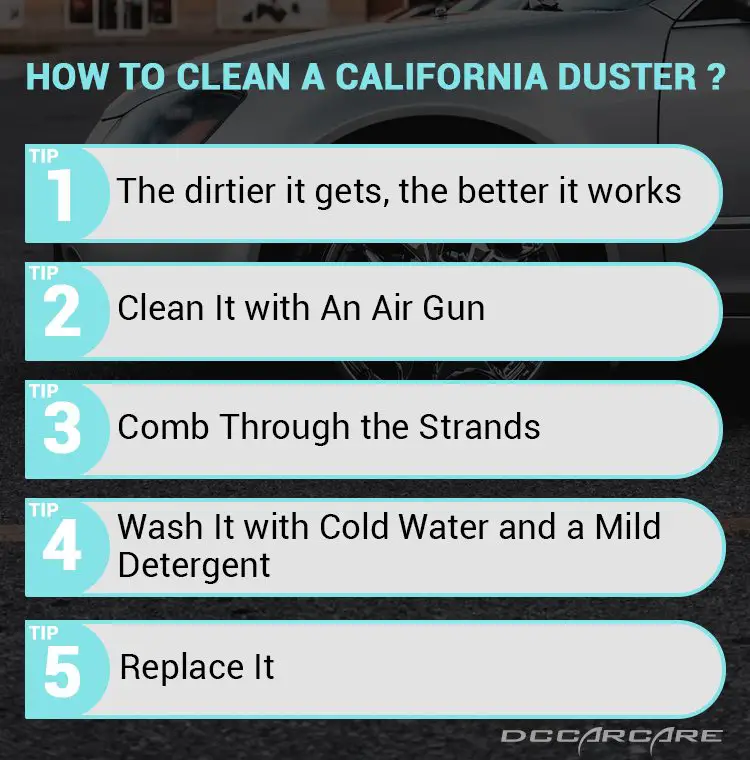 Your car duster comes with a wax treatment to trap dust and grime on the car's paint. It's such a convenient item that helps increase the time between full car wash routines. On the other hand, a dirty car duster is not going to wipe away existing debris properly.
In addition, a dirty car duster may damage a vehicle's paint job. This usually happens when you let your duster go a long time without cleaning. Moreover, a thoroughly soiled duster can lose some of its wax coating that helps it to pick dust. 
From time to time, cleaning a California car duster makes sense. 
Here are the top tips on how to go about it. 
Tip 1: Do Nothing
"The dirtier it gets, the better it works." This catchphrase is embedded in a new California duster packaging. As if it's not apparent enough, cleaning a California duster should be done only as a last resort. 
The California duster works best when it's soiled. This means that after 1-2 uses, the duster will have been broken in and won't leave lint behind. Besides, because of its permanently baked-in paraffin treatment, the original California duster can provide years of use without the need for deep cleaning.
Simply shake out the car duster and place it in its storage bag. And also, shake it before use. 
Tip 2: Clean It with An Air Gun 
For daily maintenance, clean a California duster thoroughly with an air gun. That's if it receives heavy use such that a good shake is not enough to remove excess dust. An air gun provides comprehensive cleaning. This way, you steer clear of washing it with water. Furthermore, it guarantees that you are not removing some of the paraffin wax treatment from the cotton strands.
Remember, the unique wax material is solely responsible for picking dust and pollen. Without it, the cotton strands move dust around instead of trapping it. 
Tip 3: Comb Through the Strands
When a California duster gets soiled, the strands tend to stick together. Hence, it's not practical to wipe dust. When this happens, you will want to run your fingers through the strands. This process releases the strands from each other and eliminates stuck-on debris. 
Tip 4: Wash It with Cold Water and a Mild Detergent 
If your California duster stops lifting dust from the car's surface, it may be time to wash it. 
Step 1: Fill a small bucket with cold water and a mild detergent. 
Step 2: Dip the mop in the soap and water mixture 
Step 3: Wash the duster by hand, working the strands with your fingers to remove the dirt
Step 4: Rinse the duster in your garage sink. 
Step 5: Air dry your California duster – do not put it in the clothes drier as the machine can shrink the duster so it won't fit in its handle. A clothes drier can also melt the paraffin wax off the duster.
Notes:
Ensure that the duster is completely dry before using it to dust a vehicle. Any moisture on the duster will leave streaks or lint on the car's paint. 
If your duster has excess moisture, you can wrap it in newspaper with the strands down for 1-2 days. 
Tip 5: Replace It 
If cleaning does not rejuvenate a California duster, it's best to replace it with a new one. Remember that a California duster can last many years in excellent condition. Nevertheless, you will notice that the mop discolors with continued use. But it's advisable to keep using the duster as long as it's picking dust. 
Buy a California duster below:
The Original California Car Duster
How To Properly Care for Your California Duster?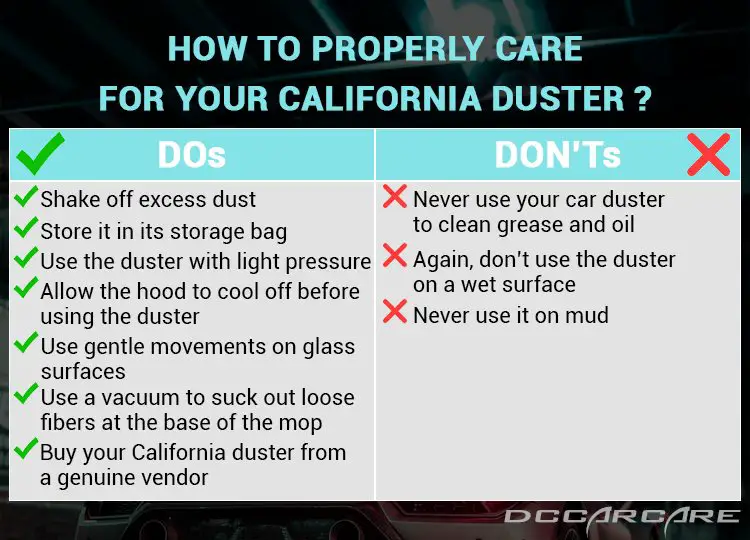 The process used to make a California duster is so exceptional. Unlike most car dusters available online and auto parts stores, a California duster has a baked-in oil treatment. Because the wax is not sprayed on, it does not lose its dust collecting properties over time. 
The baked-in wax process takes time. The duster can make dust, pollen, and debris stick to its 100% cotton strands. As a result, all you need is to shake the mop before and after every use. 
Most people have had their California duster for over ten years. Their duster still works excellent when soiled. There's no need to replace the mop or other parts. 
Dos
Shake off excess dust – this prevents dust particles from accumulating on the mop.
Store it in its storage bag – storing your duster anywhere can cause it to pick up harmful debris that can scratch your vehicle's paint. 
Use the duster with light pressure – gently dust your vehicle instead of rubbing with the mop. When you push the duster on the car's paint, it can leave behind a waxy residue. 
Allow the hood to cool off before using the duster – when the hood is too hot, the California duster will leave streaks on the vehicle. 
Use gentle movements on glass surfaces – it's easy to scratch glass surfaces even with a California duster. Hence, it helps to apply slight pressure when using the duster. Still, you'll want the glass surface to be completely dry to avoid streaks. 
Use a vacuum to suck out loose fibers at the base of the mop – when you buy a new California duster, you may find that it has trapped fibers.  
Buy your California duster from a genuine vendor – Otherwise, you may end up with an imitation that can damage the vehicle's paint. 
Don'ts 
Never use your car duster to clean grease and oil – a California duster is strictly used on dry surfaces. Grease and oil will soak into the cotton fibers, making it impossible to use the duster without leaving marks. And if you result in washing it, you risk removing the paraffin wax coating, making it ineffective at trapping dust. 
Again, don't use the duster on a wet surface – moisture will leave streaks and lint marks.
Never use it on mud – bonded dirt and things like animal droppings cannot go away with the sweep of a California duster. It's best to wash your vehicle if it has accumulated grime over a few days. A duster is ideal for elevating your car's smoothness and shine rather than eliminating irregular dirt. 
Final Thought
In summary, a California duster works best when it's dirty. You just need to shake it out before and after every use. Should your duster become so soiled and dirty that it requires deep cleaning, just rinse it with clean, cold water and a mild detergent and let it air dry for 2-3 days. 
So how do you clean a California duster comes down to daily maintenance and actual cleaning as the last straw. 
Buy yours for car cleaning!
The Original California Car Duster
The California Wheel Duster