Synthetic oil is an artificially made lubricant that consists of chemical compounds. So it needs a good oil filter to remove and prevent dirt and contaminants from entering the car's engine oil. 
A good oil filter also can keep the engine clean and prolong the life of the oil.
If your car has the below signs, you need to replace a new oil filter:
Poor Engine Performance
Overheated Engine
Sputtering Engine
Strange Metallic Sound
Low Oil Pressure Gauge
Oil Leaks
Contaminated Exhaust
Best Oil Filters for Synthetic Oil (Quick Comparison Chart)
Best Oil Filter Brand For Synthetic Oil
The best oil filter brands for synthetic oil are Bosch, K&N, Motorcraft, Fram, and Purolator.
This filter uses Bosch FILTECH technology, which is a blend of industrially manufactured and traditional materials. This construction design ensures advanced wear protection and effective filtration. 
Bosch 3300 boasts an efficiency rating of 99% for both small and large particles. Thanks to its large filter area, it can improve your engine's efficiency by up to 70%. You will also like that it can hold 14g of contaminants, meaning you can push its use for up to 5,000 miles before changing it. 
Vehicle Fitment:
Infiniti: 08-12 EX35, 13 FX37, 14-19 QX90.
Kia: 01-05 Rio, 94-01 Sephia, 00-04 Spectra.
Mazda: 16-18 CX-3, 90-03 Portege, 11-18 3 Sport, 14-18 6.
Nissan: 02-18 Altima, 05-18 Frontier, 01-14, 16-18 Maxima.
Toyota: 16-17, 19 Yaris, 17-18 Yaris 17-18.
Buy Bosch 3300 Oil Filter below:
Bosch 3300 Premium FILTECH Oil Filter
Pros
Solid steel base plates for a tight fit
Silicone anti-drain back valve
Meets specific OEM for the perfect fit
Cons
It will start leaking if not changed after 5,000 miles
You may concern: How to Clean & Re-Oil K&N Air Filter?
K&N Premium HP1002 filter is perhaps the easiest to change for DIYers. It comes with an exposed 1-inch nut, which allows you to remove the canister using a standard wrench. This filter can maintain heavy oil flow along with excellent filtration ability. That's why it's preferable for high-performance vehicles like off-roaders rather than everyday cars. 
This filter can capture 99% of unwanted substances at 20 microns. It also features an anti-drain back valve to ensure the oil doesn't go back to the crankcase when you shut off the engine.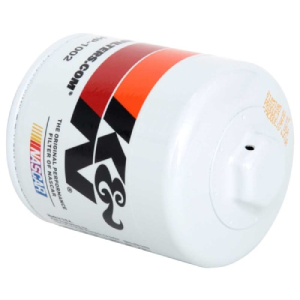 K&N Premium HP1002 Oil Filter
Pros
It uses a thick-gauge, steel canister
Pleated, synthetic-blend media ensures premium filtration
Easy to change for at-home DIYers
Cons
There are issues with quality control
Vehicle Fitment: Check here
You will experience high-efficiency filtration with the Motorcraft FL2016. You won't have any trouble installing it since the front part has an iron case to ensure it fits perfectly in place. 
This filter comes with pressure-relief valves to reduce the circulation of dirty oil to the vehicle's engine. The filter also comes in handy to supply the engine with oil during extreme weather conditions. 
Motorcraft FL2016 is designed for Chevrolet, Buick, GMC, and Pontiac (SO-1001 models).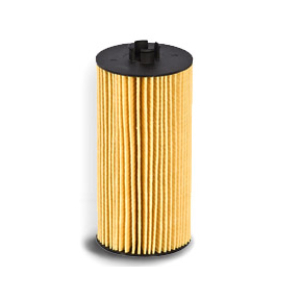 Motorcraft Oil Filter
Pros
Protects against potential engine problems
Easy to install
Secure valve for better pressure
Cons
Not ideal for high-performance vehicles
Vehicle fitment: Check here
Fram PH10060 gives you oil protection for up to 10,000 miles. It's ideal for everyday drivers to help maintain the high-end performance of the vehicle. It's also suitable for preserving and protecting older engines. Thanks to its high filtration efficiency, this filter can capture tiny particles at 20 microns with a 95% efficiency. 
The filter features a silicone anti-drain-back valve. And due to the anti-slip surface, this oil filter is ready to install without any tools.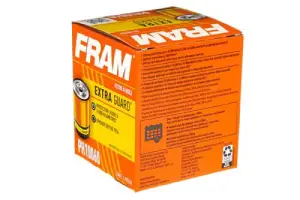 Fram PH10060 Spin-on Oil Filter
Pros
Up to three times hot oil resistance
Offers advanced engine protection
It can be used with both synthetic and conventional oils
Cons
Needs the right part size to work efficiently
Vehicle fitment: Check here
Purolator L14612 is the perfect match for synthetic oils. 
It provides engine protection for 5,000 miles with 96.5% filtration efficiency. This filter is recommended for light trucks and passenger vehicles. This is because it can help the vehicle's engine handle average weather and mild dusty conditions.
Superior internal construction ensures that continuous oil flow even during stop-and-go traffic and long commutes. And since it has an anti-drain-back valve, you'll never worry about dry starts.
Purolator L14612 Spin On Oil Filter
Pros
Ultra-durable internal construction
Premium design for peak engine performance
Maintains high accuracy in contaminant removal
Cons
Glossy surface makes it hard to grip
Vehicle fitment: Check here
---
What to Consider Before Buying an Oil Filter for Synthetic Oil?
The life and reliability of your car's engine depend on the quality of the oil filter. 
An oil filter sits in the internal combustion engine. It removes harmful contaminants that have damaging potential to the car's engine. These include wear debris, glycol, fuel, water, dirt, and many others.
For your next synthetic oil filter change, here are a few considerations to keep in mind.
Oil Filter Types: Spin-on or Cartridge
The two main types of oil filters you'll encounter are spin-on and cartridge.
The spin-on filter is the most recognized engine part. It has a steel canister and a paper element inside. This type of filter is also the easiest to install for DIYers. Not that it's simple in design. But because it is easy to mount from below or the side of the engine. 
On the other hand, you have a cartridge filter with plastic housing that requires tools to remove. If you're not a technician, you can damage the molded plastic. And if you've never done an oil filter change before, it's easy to install a cartridge oil filter incorrectly or with the wrong-size part. 
So, if you're a DIYer, you may want to skip the cartridge oil filter and use a spin-on style instead.
Dirt Holding Capacity
The dirt holding capacity indicates how much dirt an oil filter can capture and hold in grams. However, you'll want to compare that number to the filter's micron rating. You'll want a filter with large dirt holding capacity with the ability to catch dirt from 20 microns. Any debris below 20 microns cannot cause significant damage to the engine, unlike large debris like 40 microns. 
Particle Capture Efficiency
The efficiency rating is the oil filter's capacity to capture and hold a specific particle size in percentage. For example, an oil filter can have a 99% efficiency rating at 20 microns. It means it can filter out 99% of all dirt 20-microns and larger. To this end, the higher the particle capture efficiency, the better. 
So, if you find one that says it has 95% at 10 microns, it's an ideal choice over the one that says 99% at 40 microns. It means minor engine wear as small particles won't get through. But it's going to cost you more.
Media Material
The media material dictates the miles between oil filter changes.
Cellulose material is disposable and can hold particles as small as 8-10 microns. But it's only good for 3,000 miles. 
Synthetic filter media is of higher quality than cellulose. It can filter 24% of tiny particles of size 8-10 microns and 50% of 20-40 microns particles for 5,000 to 7,000 miles.
Microfiber filter media is efficient for up to 10,000 miles. Filters with microfiber mesh are high-end because their fibers are ten times more delicate than cellulose. 
Anti-Drain back Valve
Most oil filters have an anti-drain-back valve. Its purpose is to prevent contaminant backwash when you turn off the engine. An anti-drain back valve can be made of silicone or nitrile. Typically, silicone is more flexible in cold weather. It's preferable if you live in a cold climate.
Vehicle Fitment 
Manufacturers make oil filters to fit the exact specifications as the one from the car's manufacturer. So, in most cases, you'll find that an oil filter is designed for a specific vehicle brand and model. As such, you'll want to check if a particular oil filter is the correct part number to fit your vehicle.
Sum up
A high-quality filter is a must-have for synthetic oil. So don't let your engine suffer when you can choose the best oil filter for synthetic oil from our top picks. These models are highly recommended by mechanics and drivers alike. You can have peace of mind knowing you won't encounter unexpected leaks. 
---
FAQs
1. What are the signs of a bad oil filter?
A bad oil filter is usually clogged. Some of the signs to watch include an engine that sputters. You will usually notice the sputter the more you speed.
Besides, you have a bad oil filter if the engine lags and does not pick up speed the way it usually does. Also, you will hear metallic sounds since the parts are not getting enough oil. And if you see a low oil pressure mark on the gauge when driving, then there's a good chance the oil filter is terrible.
2. How often should you change oil filters with synthetic oil?
Synthetic oils perform better and last longer than conventional oils. Depending on the media material, you'll need an oil filter change for synthetic oils at the 5,000-mile mark or up to 15,000 miles. 
3. Are all oil filter wrenches the same?
No. 
Since oil filters are not one-size-fits-all, they require different oil filter wrenches. Some use metal band wrenches, while others use socket filter wrenches. There's also the chain loop, claw wrench, and strap oil filter wrench. It depends on the car model, size of the filter, space around the filter in the car, and how tight the oil filter has to be in its position.