Terry cloth and microfiber are both great options when it comes to car detailing. 
However, they are not made equal. One is great for interior & exterior cleaning, while the other does a better job at buffing and polishing.  
Find out which one to pick in today's topic: terry cloth vs. microfiber.
Terry Vs. Microfiber: Comparison Chart
| Terry Cloth |   | Microfiber |
| --- | --- | --- |
| | | |
| Versatile, durable, and highly-absorbent | Similarities | Versatile, highly absorbent, and durable |
| Cotton | Textures | Polyester and polyamide |
| Washing, polishing, buffing | Purposes | Washing, drying, polishing, waxing, buffing |
| 1 hour outdoors | Drying Time | 30min-1hour outdoors |
| Yes | Absorber | Yes |
| 5% chance of scratching the paint | Safety | 2% chance of scratching the paint |
| Up to 75 washes depending on the quality | Longevity | Up to 150 washes depending on the quality |
| Check Price | Cost | Check Price |
Is Terry Cloth The Same as Microfiber?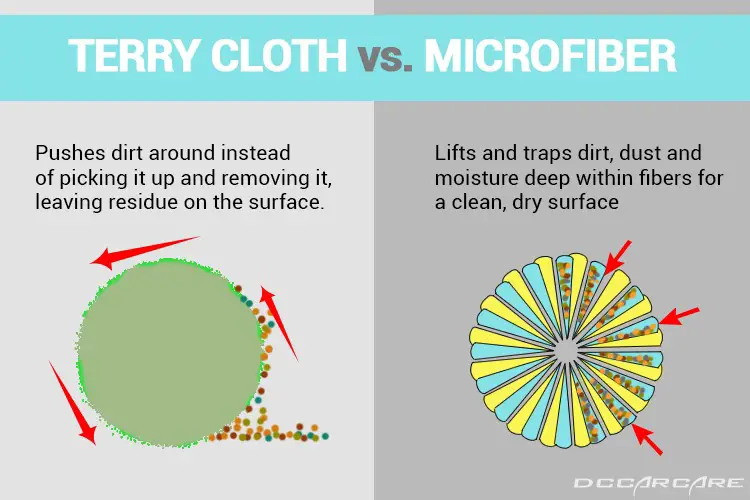 No, terry cloth is not the same as microfiber.
Terry cloth is a type of fabric that is typically made from cotton or linen. It has a looped pile surface that is absorbent and good at trapping dirt and dust. Terry cloth is commonly used in automotive applications for buffing and polishing purposes.
Microfiber is a type of synthetic fabric that is finer and more tightly woven than terry cloth. As I see microfiber is more effective at picking up dust, dirt, and other debris. It is also more durable and easier to care for than terry cloth. Microfiber is a good choice for people who want a low-maintenance cleaning solution.
Terry Cloth vs. Microfiber: Detailed Comparison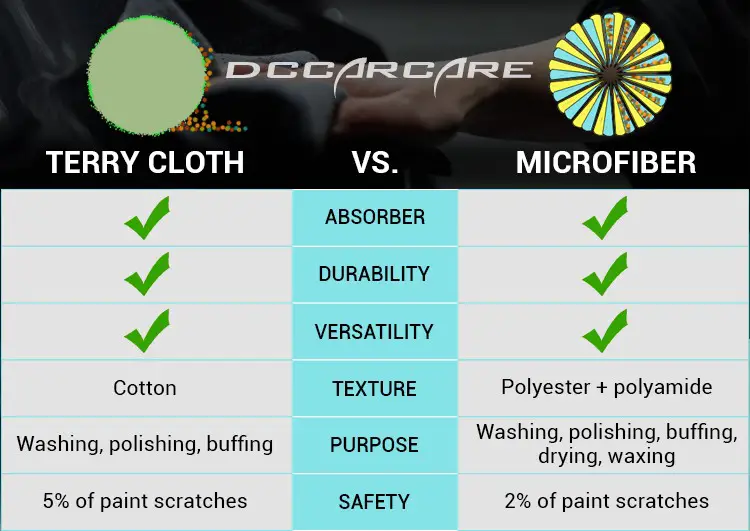 Purposes 
I often use a terry cloth to clean tires, wheels, the engine, the floor mat and terry pads for buffing and polishing.
While, microfiber is a good idea for exterior, dashboard, steering wheel cleaning, and dry cleaning.
Drying Time 
Terry cloth towels are bulkier than microfiber towels. As a result, they can take slightly longer to air dry when washed. 
Microfiber dries faster because it is less absorbent.
Absorbent 
GSM also determines Terry towels absorbency. A good GSM for hand towels for washing and drying cars starts at 380 GSM. These towels are much thicker and soft so that they can absorb lots of soap and water. So terry cloth is more absorbent than microfiber.
Chemical Guys MIC_506_12 Microfiber Towels
Amazon Basics Microfiber Cleaning Cloths
Car Paint Safety
Microfiber is safer for car paint than terry cloth.
Though terry cloths made of 100% cotton, the main issue with them is the material used to sew in the cotton. Some have a synthetic base like rayon which is usually exposed at the edges. If these edges come into contact with the car's exterior, they will leave scratch marks.
CARCAREZ Microfiber Towels for Cars
Longevity
Microfiber is more durable than terry cloth.
Thanks to their natural fibers, terry cloth can last up to 75 washes and still work effectively. While microfiber can take it to 150 washes
CARCAREZ Microfiber Towels for Cars
Cost 
Terry cloth is usually less expensive than microfiber.
---
Sum up
Choosing between terry cloth vs. microfiber is all about the purpose you have in mind.
Microfiber is better for you to clean your car; However, If you are looking for something for polishing, buffing, waxing, terry cloth is for you.
Go on and choose the best towel that fits your workspace. 
AUTDER Car Polisher Buffing Pad Bonnet 
Chemical Guys MIC_506_12 Microfiber Towels
Read more: 3 Quick Tips to Remove Inspection Stickers