Let's face it! Cars are not thick-skinned machines. With time, they fade and wear out. So, at some point, a little polishing or painting will be necessary to give them a glossy or shiny look. If that's the case, which car polisher gives you the best results? That's what this article helps you resolve. We have done thorough research, and we are giving you a simple detailed review of Random Orbital vs. Dual Action Polisher.
Random Orbital vs. Dual Action Polisher: Detailed Comparison and Review
The differences between random orbital polisher and dual action polisher are important if you intend to make a choice. Most importantly, they impact how you operate or use your polisher and ultimately, the results you get. So, let's go through the differences between them:
Random Orbital Polisher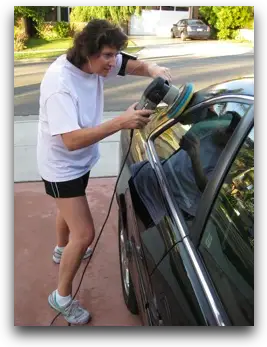 Features and Functions
The random orbital polisher has a dual-mode feature that makes it perfect for a couple of polishing tasks. Its major functions include polishing, buffing, and waxing applications. Provided you can handle and use it appropriately, it often produces the best results.
Motion/Speed
Random orbit polishers rotate at a speed of between 1800RPM and 7000RPM. Unlike the dual polisher, the random orbital polisher rotates due to the momentum that the speed creates. You should also note that the pattern of motion is purely random hence the name.
Price
You will find a wide array of random orbital polishers. Each of them is priced differently. You might have to make a comparison to find one that best fits your budget. You will find some going for as low as $69 to as high as $180.
Pros
It has a removable and adjustable handle with a rubber grip for ease of handling while using it
You can change the backing plate
It's easy to use especially for beginners
It is highly durable and powerful for deep scratches
Cons
It is a little bit heavy and noisier compared to other types of polishers
Dual Action Polisher
Features and Functions
Commonly known as the DA, the Dual Action Polisher is a machine that combines two functions, specifically when it comes to motion. It is a user-friendly polisher and cannot cut or damage the paint. If you want to improve the appearance of scratches, then this might be the polisher you need to use.
Motion/Strength/Speed
Dual polisher moves in a circular motion on the head. It spins on its central spindle just like the earth on its axis. The spinning produces irregular jigging motions that will help reduce the chances of damage and heat as a result of excess friction.
When it comes to speed, the dual action polisher operates at a speed of about 1500-6800 RPM. Also, while it is strong, it might not be a perfect one if your vehicle has deep scratches. It is, however, a perfect option if you want to improve the appearance of scratches.
Price
Prices vary from time to time and also depending on the brand you want. Please, note that there are different types of dual-action polishers. With that said, the approximate price of a dual polisher on Amazon is $69.99. You might get a slightly higher or less figure, but it should be around that amount for a good polisher.
Pros
It's easy to control in both horizontal as well as vertical panels
It's effective in the removal of light imperfections or scratches on your vehicle
It has speed control to allow you to control the speed to suit your application
Easy to operate gets the job done quickly
Has an adjustable handle for comfortable and perfect grip
Cons
Generally, not a good option if you are looking to remove deep paint defects on your vehicle.
Recommendation: Who Should Take Each of These Polishers?
If you want an easier and safer polisher, a random orbital type will do the work best for you. You should also use this polisher if you'd like to sand off any old paint in your vehicle, so you apply a new coating. It will help you achieve a smooth and perfect finish.
On the other hand, if you want to get rid of light to moderate scratches or imperfections on your vehicle, a dual-action polish will do the job for you perfectly.
Random Orbital vs. Dual Action Polisher: A Complete Comparison Table of the Products
| | | |
| --- | --- | --- |
| | Random Orbital Polisher | Dual Action Polisher |
| Size | 18.3 x 6.4 x 5.2 inches and weighs 6.54 pounds | 20.1 x 8 x 8 inches and weighs 6.5 pounds |
| Key Components/Parts | Polisher, microfiber wash mitt, detachable handles, a hex wrench, and towel | Spanner, hex wrench, detachable handle, microfiber wash mitt, and polisher |
| Speed | 1800RPM – 7000RPM | 1500 RPM – 6800 RPM |
| Strength/Capacity | Powerful with an 8Amps – 950 watts motor | Less powerful with a 680-watt motor |
| Motion | Moves in two directions | Circular motion combined with the spinning |
| Safety | Easy to use and is safe as well | Has easy to use features and is generally safe |
| Manageability/Flexibility | Flexible and can flawlessly handle car waxing, polishing, and sanding. It's also easy to adjust speed, and anyone can use it. | Easy to adjust manually and has a variable speed |
| Prices | The range between $69 and $180. | Cheapest goes for $69.99 and can go up to $195 for some types |
Frequently Asked Questions
Is There a Difference Between a Buffer and a Polisher?
Yes, a buffer modifies or improves the look or natural car paint/clear coat. It is normally used together with car waxing compounds. On the other hand, a polisher helps in the evening our car scratches or imperfections.
2.What Speed Should You Buff a Car at?
If you want to get a perfect finish, make sure that your RPMs are within moderate levels that are neither too high nor low. More precisely, speeds ranging between 2000RPM to 2500RPM are okay, but as you finish, you should slow down to about 1100RPM.
Note that even if you have the best polisher and other requirements, buffing at the wrong speed will spoil everything. At the very least, you will end up with an uneven finish or miss to achieve a perfect look.
3.Are Dual Action Polishers Safe?
Provided you are using appropriate chemicals and pads, a dual-action polisher will always be safe. It won't create any swirl marks or burn the paint even if you are doing the work yourself for the first time. But bear in mind that as usual, it takes practice to perfect the art of buffing and polishing.
4.How Do You Wax A Car With an Orbital Polisher?
There are different ways you can wax your car with an orbital polisher. If you, however, want to get the best results, then the best method to wax your car is to put a few drops (about four) on the polishing pad and applying it in a sweeping motion, preferably at low pressure. Do so throughout the parts you want to polish each time to make sure that it is even and cover fully.
5.Can You Burn Paint with a Dual Action Polisher?
No, since most dual action polishers are safe and have a low likelihood of causing damage. Why is that the case? Well, dual-action polishers do not produce high amounts of heat that can burn the paint as is the case with other polishers such as rotary polishers. Simply put, dual-action polishers will only remove swirls and scratches to improve the appearance.