Investing in a portable cooling unit for your car can create a comfortable cabin environment when driving in sweltering weather. It's also ideal if your vehicle's AC malfunctions frequently or is unreliable. Moreover, the best portable AC for cars can dehumidify the air and improve its quality.
However, hundreds of brands all claim to offer the best features. That's why picking only one can be super tricky. No worries, though. I've looked into the most popular options to bring you this list of the most recommended portable AC for cars.
Here, you will find specific models for passenger cars, trucks, or RVs. I'll also get into the features to consider before buying a portable AC for a car. So, without further ado, let's look at the top portable car air conditioners to take with you this summer.
How Many Types of Portable AC for Car?
The first thing you'll want to be familiar with is the different types. You will encounter electric fans, rooftop air conditioners, stand-alone ACs, handheld designs, bucket coolers, and evaporative air conditioners.
1.Electric Cooling Fans
A portable electric fan is ideal for small cars since it's easy to move from one location to the other. It's also cheap compared to other portable ACs. What's more, it consumes the least amount of energy, which is ideal if you want to conserve energy.
Electric Car Cooling Fan
2.Bucket Cooler
This portable car air conditioner is bulkier than an electric fan. However, it is more capable of cooling your vehicle than a fan. It needs to fill it with water and ice and turn it on to receive a cool breeze.
Portable Air Conditioner
Most bucket coolers are battery charged, but they can also power through your car's cigarette lighter.
3.Evaporative Units
This cooler evaporates cool water, bringing down the air temperature. It does this by pulling in the stale air, moving it over a rigid cooling pad, and evaporating cool water.
Evapolar evaCHILL EV-500
4.Rooftop Air Conditioners
These are for RV and camper installations. They can also work as window AC units since they come complete with their evaporator, compressor, and thermostat controls. Rooftop ACs are installed permanently and require refrigerant, thermostats, and temperature sensors.
Car Cooling Fan with 360 Degree Adjustable
5.Wearable and Handheld Designs
These are ACs that you can take with you outside or place on the dash or armrest for instant cooling. Personal air coolers are usually cordless and powered by rechargeable batteries for a wire-free experience.
Portable Personal Air Cooler
Important Things To Know Before Buying A Portable AC for Cars
Size
Portable air conditioners for cars are tiny, and that's why you'll want to pick a unit that can work well with the car you need cooling. For example, an electric fan can work well in a small passenger car, but it may not suit a large fifth-wheel camper.
Still, it's better to go for a small unit that your car can accommodate without taking up extra room.
Cooling Capacity
This feature describes how powerful the unit is. On regular air conditioners, this feature is measured in BTUs. This feature is important in RV ACs because you want something to cool the entire RV. The higher the BTU rating, the higher the cooling capacity of an air conditioner.
However, because of their small size, a car and truck portable AC's cooling capacity is determined by the area it can cool in ideal conditions.
Noise Levels
Portable air conditioners can be noisy. Nonetheless, the best AC's have a noise control feature so that the noise coming from the model is background noise. A noise-free unit can guarantee a comfortable trip if you're concerned about noise. The most comfortable noise level is less than 50 dB for personal ACs and less than 56 dB for RV ACs. This noise is going to be a background hum that's way below normal conversation.
Functions
Except for providing you with cool air, portable ACs also have extra functions. Some can remove bad odors, while others can restart automatically as soon as the temperature reading goes up. Some humidify the air, so your skin does not dry out.
To this end, it's best to look at the features you need in a unit before choosing a brand. Remember that more features attract a higher price tag than a basic fan.
Cost
It's essential to look at the value of a portable air conditioner. Note that a typical one-room air conditioner will cost more than a small car AC. Hence, the bigger the area you need to cool, the higher the price tag.
Secondly, the number of features you need will determine the price tag of any particular car air conditioner. Lastly, the brand name also plays a part in how much you pay for a unit, and renowned brands have highly-priced units, unlike less-renowned models.
Warranty
Most portable car ACs will have a 30-day return period and a warranty of up to two years. The vital aspect of a guarantee is that some manufacturers require registering the AC once you buy it. Otherwise, you may not claim a refund or repair without registering. Others, on the other hand, require the original receipt. Hence, it's best to go through the warranty requirements after buying the product.
Best Portable AC for Cars & Truck
Quick Comparison Chart
Why I Chose Ontel Arctic?
This cooling device will bring down the air temperature around you by 20 degrees. I like that it is horseshoe-shaped and the same size as a pair of headphones. As such, it is easy to wear it around the neck. Thanks to its lightweight design, you can drive without feeling like something is weighing on your neck.
Ontel Arctic Air Freedom requires charging using a USB cable, and you get up to six hours of cool air on a full charge. It also has three fan speeds for your convenience. Also, it is wire-free so that no wires will disrupt your drive.
Ontel Arctic Air Freedom Portable Personal Air Cooler
Pros
It takes up little space
No lumpy buttons
Three different fan speeds
Purifies air as it cools it
Cons
The highest setting offers only an hour of use
Why I Chose Wemordu Personal AC?
One of the best portable ACs for cars is the Wemordu model. It has four functions for such a small unit. This model will not only cool the air around you, but you can also place it on the dash or armrest and use it as a fan.
Furthermore, it humidifies the air and prevents your skin from drying out. Lastly, this AC will also emit light that you can use instead of turning on the cabin lights. Rated at only 3 watts, this model is very energy efficient, and it does not use a refrigerant; that's why it uses little energy.
Wemordu Portable Air Conditioner
Pros
Only two buttons
Energy-efficient
Ultra-quiet operation
Three adjustable speeds
High-speed fan
Cons
Holds charge for two hours at the highest setting
Why I Chose Evapolar evaCHILL?
This personal cooler is also ideal for a single person. Thanks to its small size, you can place it just about anywhere in your car or truck for comfortably cool air. Evapolar plugs into a dash-mounted socket/cigarette lighter so it's easy to use.
With the humidifying function, you'll be able to use it in dry climates where dry air can leave your skin crackly. It has a tank where you fill it with water, and you control it with a single button. It's also not loud so that it will not distract your drive.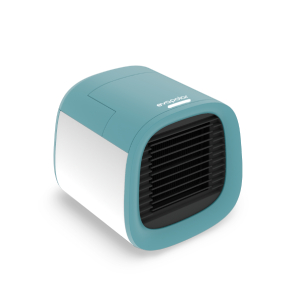 Evapolar evaCHILL EV Portable AC
Pros
Controllable air flaps on the front grille
Spout prevents spillages
Handle for portability
Why I Chose HueLive Car Fan?
This car fan provides excellent and powerful vehicle ventilation. Combined with its ultra-quiet operation, it's every driver's dream come true on a hot summer day. HueLiv will keep you and your passengers cool since it oscillates 360-degrees to deliver cool air throughout the cabin.
HueLiv can also fit any car since it mounts using a strong suction cup. It's easy to install firmly on the window or windshield. Plus, it connects to a 12V DC cigarette lighter socket. You'll never worry about battery life.
HueLiv 12V, 6″ Portable Air Cooling Fan
Pros
Connects through cigarette plug
Durable plastic design
Oscillates 360 degrees
Cons
Not best for temperature above 100°F
Why I Chose FiveJoy?
The two fan heads on this device are powerful enough to cool a medium-size car to truck. These fans are efficient such that they provide instant cooling the moment you turn them on. While they can move lots of air, FiveJoy only uses 6.5 watts of power.
In addition, they use a cigarette lighter plug, meaning they can easily connect to any vehicle. I like that they are relatively easy to place on the dashboard or armrest since 3M adhesive stickers keep the base securely in place. Lastly, two-speed settings ensure that you can keep the car cool in summer, and you can also use it to defrost the windshield in winter.
FiveJoy 360 Degree Rotatable Car Fan
Pros
Dual heads rotate 360 degrees
Energy efficient
Space-saving design
Easy, one-button operation
Cons
Loud at 50 dB noise level
Why I Chose XOOL Electric Fans?
XOOL fans have dual heads that install easily in the rear to cool your passengers. These fans are installed without any tools so they are ready to use out of the box. XOOL fans also connect to a cigarette socket and come with a 5.87ft. cord with black clamps to tie extra wire.
These fans are your go-to if your car's air conditioner is not sufficient to cool kids and pets in the back seat. You can rotate both the fan heads and the base to achieve the best placement for cool air. The step-less speed regulator does not have a speed limit to maximize comfort.
XOOL Electric Car Fan for Rear Seat Passenger
Pros
Low noise level
Easy to install
No speed limit
Removes moisture from car interior
Best Portable AC for RV
Quick Comparison Chart
Dimensions
Fitting Area (Sq. Ft.)
Noise Level (dB)
Key Functions
Power Consumption
Whynter Portable AC
16 x 19 x 35.5 inches
500 sq. ft.
<56 dB
Air cooler
Dehumidifier
Fan


1300 watts
MIDEA Portable AC
12.56 x 24.96 x 12.96 inches
150 sq. ft.
51 dB
Air cooler
Dehumidifier
Fan
824 watts
BLACK+DECKER Portable AC
16.5 x 11.5 x 26 inches
150 sq. ft.
51 dB
Air cooler
Dehumidifier
Fan
950 watts
Why I Chose Whynter ARC-14S?
Whynter ARC-14S is a solid portable air conditioner for your home on wheels. It boasts 14,000 BTUs, which can cool large fifth-wheel campers with interiors of up to 500 sq. ft. The AC produces noise below 56 dB, meaning it will be a background noise that will not disturb your peace. In addition, it includes wheels that make it easy to move to a different location.
I also like that Whynter is not a power hog. Unlike other 14,000 BTU ACs, it only draws 1300 watts. It can remove extra moisture from the air; hence it's a good option for humid climates like Florida.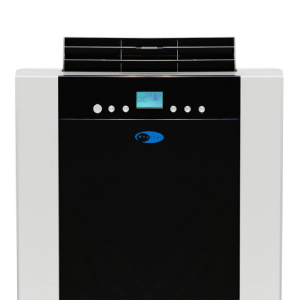 Whynter ARC-14S 14,000 BTU Dual Hose
Pros
Offers digital and remote control
Auto-restart
Wheels for easy rolling
Eco-friendly refrigerant
Why I Choose MIDEA MAP05R1WT?
MIDEA's portable AC unit has a 6,000 BTU rating and can cool an RV with an interior of 150 sq. ft. It can keep a teardrop camper or small trailer as comfortable as possible between 62°F and 86°F. The AC has three operating modes, including a three-speed fan and dehumidifier.
MIDEA MAP05R1WT features a 24-hour timer that you can program to start and stop when you need it. The model comes with an exhaust hose and window kit so that you won't return to the store. Plus, it has a removable and washable air filter for reusing.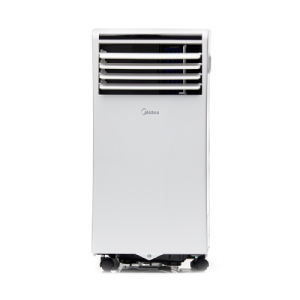 MIDEA MAP05R1WT 3-in-1 Portable Air Conditioner
Pros
Compact and lightweight
Three functions in one
Easy to control LED and remote control
24-hour adjustable timer
Cons
The internal thermostat does not display room temperature
Why I choose BLACK+DECKER BPACT08WT?
BLACK+DECKER BPACT08WT has three functions, but unlike its competitors, it does not blow cold air directly at you. Using the fan setting feels like a cool breeze, but it will not leave you freezing. The air conditioner has electric controls, a 24-hour timer, and a sleep mode. When you switch on the sleep mode, it will save energy, plus you will not deal with any noise as you sleep.
I also like that the unit has caster wheels and side handles to improve portability. And as you know, Black+Decker has some of the highest quality products so that you can depend on this unit for a decent period.
BLACK+DECKER BPACT08WT Portable Air Conditioner
Pros
Sleep mode saves energy
Full window kit included
24-hour timer
Includes reusable filter
Sum up
In summary, the best portable AC for a vehicle will cool your car and provide extra features to keep you comfortable. You can find various types, including individual units to large models for large motorhomes. This list offers the best attributes for each model to help you make an easy choice.
Are you ready to pick a portable air conditioner for your car, truck, or RV? These brands are the only ones you'll need.
You may concern: 4 Causes Smell Like Vinegar In Car and Quick Steps To Remove