When it comes to Plasti Dip vs. spray paint, you're looking at a temporary solution versus a permanent one. Plasti Dip can make your wheels look great, but you'll need to reapply after 1-2 years. Meanwhile, spray paint can last up to six years before touch ups.
So, it comes down to what you want to achieve with either product. If you're going to upgrade the look of the rims temporarily, Plasti Dip is effective. But if you want a finish that will look amazing for long, go with spray paint.
In this article, I will analyze each of them and their differences to know which is suitable for you.
Plasti Dip Vs. Spray Paint: Comparison Chart
| | Plasti Dip | Spray Paint |
| --- | --- | --- |
| | | |
| Longevity | 1-2 years | 5-6 years |
| Ease of Use | Beginners | DIYers and Professionals |
| Look | Matte, polished look | Matte, gloss, silk, etc. |
| Maintenance Requirements | Soap and water with a dip washer rug (rubberized rug) | Wheel shampoo and water with quality mitts or woolies |
| Weather Effect | -30F – 200F | -30 F – 900F |
| Protection Barrier | Moisture, acids, and corrosion | Moisture, acids, salt, sand, chipping, and brakes dust |
| | Check Price | Check Price |
What's the Difference Between Plasti Dip and Spray Paint?
1. Durability
Plasti Dip is a quick way to get a new layer of paint on the car's rims. It lasts 1-2 years on the wheels since it is a rubberized coating. Harsh conditions cause Plasti Dip to fade and look old eventually.
Spray paint is considered a permanent solution. Most contain an acrylic enamel formula that can restore the original appearance of the rims. As such, you can expect the paint job to last many years, requiring only a few touch ups.
Plasti Dip Black Rim
CRC All Purpose Enamel Spray Paint
2. Ease of Use
Plasti Dip does not necessarily require using a primer before application. All you need to do is wash the rims properly and ensure they are adequately dried. This process ensures that Plasti Dip adheres appropriately on the rims.
Spray paint requires going through the stages of applying paint. It means you'll have to thoroughly clean the wheels, use a primer, apply the paint, and finish off with a clear coat. This process is essential to prevent brake dust and outdoor elements from damaging the painted layer.
Plasti Dip Black Rim
3. Harsh Conditions Effect
Spray paint can withstand the harshest of conditions, but Plasti Dip will not. Plasti Dip is ideal for protecting against moisture, acids, and corrosion. Meanwhile, spray paint can prevent damage from moisture, snow, salt, acids, oxidation, and many other elements.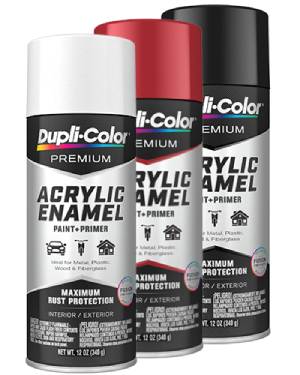 Dupli-Color Spray Paint
4. Versatility
Plasti Dip is suitable if you want to change the rim colors every few months. This flexibility is nearly impossible to do with spray paint. It will take lots more effort than the paint job, and it's not usually worth it.
5. Budget
Plasti Dip is hands down the best solution for anyone on a tight budget. It is less costly than spray painting. Plus, you get to experiment with various colors until you get the look you want.
Plasti Dip
Can you spray paint over plasti dip?
No. It's not advisable to spray paint over Plasti Dip. Because Plasti Dip is a flexible paint, while spray paint is oil-based. If you were to apply spray paint over Plasti Dip, it would crack in many different areas because of the flexibility and expansion of the Plasti Dip.
Can you use Plasti Dip to paint a car?
Yes. You can use Plasti Dip to paint a car. It will give you an easy and short-term way to customize your vehicle. If you can't decide on the best color for your car, Plasti Dip can provide you with the flexibility of seeing how different colors look within a month.
Does Plasti Dip look as good as a regular paint job?
On the rims, a professional can get you as close to a regular paint job as possible. But on the car's body, especially with the black color, you will need hundreds of layers to get the pitch black that many drivers love.
Additionally, it's hard to get a glossy finish with Plasti Dip.
How many coats of Plasti Dip should I use?
You will need 4-5 coats on the rims for good adhesion that won't come off quickly. A minimum of five layers is required for winter wheels.
You may concern: Powder Coated Wheels vs. Painted: Which is Better For You?