King ranch seats are one of the most delicate leather types on the market. It is made using a smooth, soft process to obtain its buttery feel and appearance. This type of leather is easily worn out by stains, cracking, and fading. 
So how do you clean or restore stained, cracked King Ranch seats leather? How to protect and maintain them?
This article will give you the best guide on how to clean and restore your dirty ford king ranch seats and recommendation for suitable seat covers.
Are King Ranch Seats Real Leather?
Yes, the King Ranch seats are made from real leather. This is a luxurious material that is soft to the touch and very comfortable to sit on. The seats are also heated and cooled, making them even more comfortable to use.
Why Does The King Ranch Leather Get Easily Worn Out?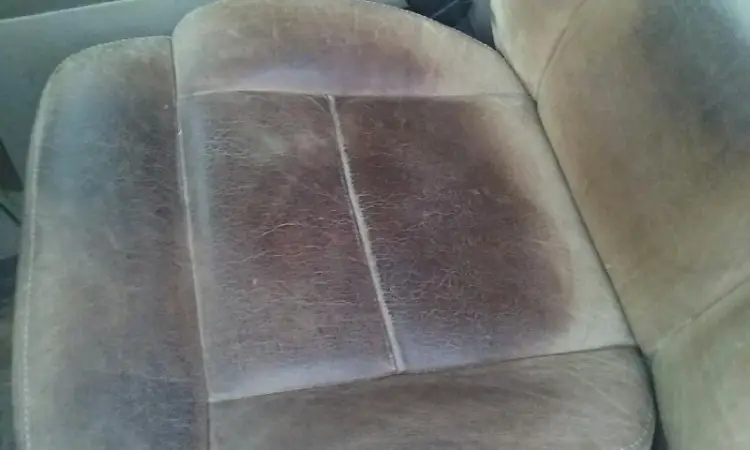 1. Because of the aniline-type leather material that makes it up
The aniline leather material lacks the top dye coat that often protects the leather from normal wear and stains by running interference. Consequently, the stains will get into the aniline leather instead of getting constrained at the top. It will then result in the caking and deterioration of your king ranch leather unless arrested early.  
However, you do not need to panic whenever you spot any deterioration of your king ranch leather. You can always restore it to its original state, provided you follow the correct restoration and preservation guidelines. It becomes prudent to use the right solutions and methods to have it all back as new.
2. Results from the recklessness upon which users get out of your SUV or truck
You probably slide out of your truck or SUV whenever you reach your destination, right?
To bust your bubble, sliding out of your leather seat every time wears it out. It is vital always to climb out the same way you climb into your truck. It will help preserve the delicate aniline leather that makes up your seat cover.
The aniline leather material of the seat lacks a tough outer surface, unlike other typical leather products like upholstery. Because of this, it retains its natural hide surface, complete with its "grain" that frequent friction impacts negatively.
Can You Clean King Ranch Seats?
Yes, you can clean King Ranch seats. However, it is important to note that leather is a natural material and can be damaged by harsh chemicals. Therefore, it is best to use a mild cleaner and avoid scrubbing the seats too aggressively.
Best Way To Clean King Ranch Leather Seats
You can watch the below video to know how to clean and restore your King Ranch seats.
A dark, stained, fading, and cracking king ranch seat can become an eyesore. To correct the situation, carry out the following.
Preparation
Clean microfiber towels
A bucket of clean water
A king ranch leather cleaner and conditioner
Step 1: Dip a microfiber towel into the water bucket, then squeeze the towel.
Step 2: Clean your king ranch seats to remove the stains and dirt. After that, leave the leather seat to dry before proceeding to the next phase.
Step 3: Apply the leather care product on your cracked, rough, and fading king ranch seats. Here, it becomes essential to use your fingers in applying and buffing the leather care product on the car seat.
Step 4: Wait for 10-15 minutes.
Step 5: Use another clean towel to clean the seat's surface after applying the cream. It will eliminate any extra and unwanted cream, thereby preventing any staining of your clothes when using the car or truck.
What's more? The restored seat will last about seven months before another round of conditioner applications.
Best King Ranch Seats Conditioners and Cleaners
Any leather cleaner explicitly formulated for aniline leather
Diverse types of leather cleaners exist out there. However, any aniline leather cleaner becomes ideal for your king ranch leather because it will clean the surface owing to its absorbent leather-surface formulation. In most cases, like most people, use the king ranch saddle conditioner for cleaning your king ranch leather.  
All leather care products with the proper pH balance
Provided it has the proper pH balance, every leather care product can become an ideal conditioner for your king ranch leather. For instance, leather products get produced from a pH range of 4.5 to about 5.5. Such a pH range ensures that the tannins and fat bound in leather stay intact. Consequently, having a conditioner with the same pH range will provide the revitalization and preservation of your king ranch leather.
Below are the best King Ranch leather care products I have used that work effectively and protect the leather.
Leather Honey Leather Conditioner
Mothers 06312 Leather Conditioner
How To Protect and Maintain the King Ranch Leather
1. Condition at least two times every year
The king ranch leather is unprotected (aniline nature) and thus requires frequent "feeding." Because of this, try and condition it whenever your leather seats feel lighter, dry, and rough to the touch. It needs a minimum of two conditioning phases every year. Here, deploy the king ranch leather conditioner as already detailed above. 
2. Choose the right care products
You need to check out the supplier of the leather care product to ensure that the product proves okay for deployment in cleaning and conditioning aniline leather. Most manufacturers will have specifications on where best to deploy their leather cleaning and conditioning products. 
Avoid silicone products and leather "wipes." Such products are harmful to aniline leather surfaces. Silicone tends to interact with leather leading to the lather drying up. Consequently, it results in cracking, an undesirable trait for your leather seats. 
Weiman Leather Cleaner and Conditioner 
Chemical Guys Leather Cleaner and Conditioner
Lexol Leather Conditioner and Leather Cleaner
3. Use a blow dryer when using any cleaner
Aniline-formulated cleaners can temporarily darken your king ranch leather seats upon use. However, the leather usually restores its original color upon drying. Therefore, use a blow dryer with moderate heat to speed your leather seat drying process. 
4. Use seat covers to protect King Ranch seats
Foods when you eat in your car or sweat body, and skin oils will damage unprotected leather. Therefore seat covers are necessary to prevent King ranch seat from fading and cracking. 
Best Seat Covers For King Ranch
EKR Custom Fit Seat Covers release you from worrying about cracks, pet furs, stains, and spills on your car seats. Being custom fit, they go onto your specific car's seats while accommodating their exact features.
This particular set is for 2015 to 2020 Ford F150 vehicles. They are made of a leatherette layer with foam padding and a polyester shell for outstanding protection. The stitching also matches the factory seat style so that you won't be taking anything away from your Ford.
The EKR custom-fit covers are easy to install, comfortable, and breathable. No worries if you live in a hot climate because these seats provide the coverage you need from head to the back of your legs. The set includes headrest covers, front, and rear seat covers, and airbag cutouts.
While EKR seems to have thought out everything about these covers, the headrest covers don't fit the size. I don't think it's noticeable, but EKR would do better with their fitting.
Who should buy?
EKR Custom Fit Seat Covers are suitable for car owners 2015-2020 4Dr Ford F150 and for those who often drive with kids or pets in the rear seat. These covers provide superior protection while elevating the look of your truck.  
Buy EKR Custom Fit Seat Covers below:
EKR Custom Fit Seat Covers for Select 2015-2020
King Ranch leather is one of the most excellent materials used in Ford Seats. It's soft and bright with a natural feel, unlike vinyl and leatherette materials. However, after years of use, leather can lose its natural appeal. So, if you've found yourself with a less luxurious seat cover on the driver's side, you'll like the US Auto Upholstery King Ranch Leather Seat Cover.
This model is specifically designed for the driver's bottom, and it meets specific OEM specs for 2008 to 2010 Ford F250 4×4 Diesel vehicles. As such, it's a direct replacement for your current cover. In addition, it has half an inch of foam to meet comfort needs, although it's not a slip-on or pull-over cover.
This model comes in the exact color and quality of your Ford F250. It's sleek, comfortable, and will increase your Ford's value. However, it needs proper care and maintenance because it does not have a protective layer.
Who should buy?
If you spend long hours in your truck or have never replaced your 08-10 Ford F-250 4×4 Diesel F250 driver's bottom cover, it's high time you gave your truck an upgrade. This cover can help you fetch a better price if you're looking to sell the vehicle soon. 
Buy Us Auto Upholstery-Driver Bottom King Ranch Leather Seat Cover below:
Us Auto Upholstery-Driver Bottom King Ranch Leather Seat Cover 
Rough Country F&R Neoprene Seat Covers are perfect if you have an active lifestyle or often have kids in the vehicle. These upholstery covers are made of neoprene, so they are as durable as leather in many aspects. 
Firstly, they can resist wear, stains, and other factors that degrade the material. Secondly, these covers repel heat so you'll not sit on seats that are unbearable hot in summer. Thirdly, they keep warmth much better than leather, making them great for winter too. 
However, they are water-resistant, not waterproof. Water beads up but will absorb over time. Hence, there's a need for prompt clean up after any spill. 
Who Should Buy?
These Rough Country F&R seat covers are a custom fit for the 2015 – 2020 4WD, 2WD Ford F150, and 2017 – 2020 4WD Ford F250 Super Duty. They provide a snug, custom fit and an easy-to-do installation that you can do at home. 
Besides, these seat covers look and feel like original equipment, but they are cool for hot days. They are also the perfect pick for parents as they extend the life of your factory seats when you can't prevent spills and stains from kids. 
Buy Rough Country F&R Neoprene Seat Covers for the 2015 – 2020 4WD, 2WD Ford F150, and 2017 – 2020 4WD Ford F250 below:
Rough Country F&R Neoprene Seat Covers 
Covercraft SSC2516CAGY seat covers are compatible with select Ford 2017-2018 F250 and F350 models. They come in a gravel color and protect seats from daily abuse. Hence, they are built for rugged usability and durability. 
You will find these covers beneficial if you take your truck on the most tasking jobs. Knowing that seats take the most damage, you'll like that these covers are water, stain, and grime resistant. Not to say that they won't collect dirt, but you can remove them and throw them in the washer. 
Apart from the Carhartt styling, these covers also include adjustable headrest covers and airbag cutouts. Nevertheless, you may not like how they attach at the bottom since the strap does not do much to keep the cover snug.
Who Should Buy?
Covercraft SSC2516CAGY covers are primarily for protection. So, drivers who own 2017-2018 F250 and F350 models and bring dust or grime from work sites will appreciate this model. 
Buy Covercraft SSC2516CAGY below:
Covercraft Carhartt SeatSaver Custom Seat Covers 
Final Thoughts
King ranch leather cleaning, as detailed above, becomes crucial in preserving and restoring. I hope that the information I have detailed in the article will prudently guide and help improve your car's king ranch leather seats and interiors. 
It is also prudent to remember that not all leather care products get formulated similarly. Some utilize advanced chemistry, while others use petroleum distillates, high octane substances, and other harmful ingredients in their formulations. However, everything notwithstanding, whenever you notice your leather seats cracking, fading, becoming rough, or deteriorating, please do not hesitate to apply the knowledge you have acquired from this piece.