"Not always." Although Goof Off has been the go-to product for tough stains, some experiments have been costly.
Every car owner occasionally struggles with sticky spots and stains on the paint surface. When driving around the city, tree sap, stickers, and even tar can get stuck to your car's surface.
We all hope to remove such stains without damaging the car paint, but this isn't always the case. One of the major reasons why Goof Off damages car paint is poor application.
Goof Off FG653 Professional Strength Remover
Will Goof Off Hurt Auto Paint?
Goof Off is generally safe for auto paint, but it might hurt your clear coat if you don't apply it correctly. This adhesive remover works by softening paint in the regions where it is applied. As a result, dried plastics, latex paint, and other adhesives are dissolved.
A good number of Goof Off users have shared terrible experiences about the product stripping off car paint, lessening car paint shine, or leaving drip marks on car coatings. In most cases, claying and waxing the car didn't help undo the harm done by the product. With many of these bad experiences scattered, it is easy to understand why Goof Off has a bad reputation.
The best way to use Goof Off is to apply the chemical to the car's surface and leave it alone for a few minutes before carefully removing it. Also, you should apply the formulation on a cotton ball or wet damp cloth and apply it gently. Goof Off helps remove unwanted stains without leaving dull marks or swirls on the car surface when used correctly.
Notwithstanding, I will try to be as objective as possible in this article. Although there are many negative reviews about the product, many positive experiences are also. My experience shows that negative complaints usually come from users who didn't apply the product correctly. They either let it sit for too long, or they rubbed too hard.
Therefore, Goof Off won't hurt your car paint if you apply it gently.
What to Do if Goof Off Ruins Your Car Paint?
If you've got a Goof Off trouble, you can correct minor damages by sanding or polishing the surface a little. But in other cases, you'd probably have to re-coat the affected surface.
If you're not a DIYer, visit an experienced detailer to check the level of damage and seek ideas on possible remedial measures.
Goof Off vs. Goo Gone
Goof Off FG653 Professional Strength Remover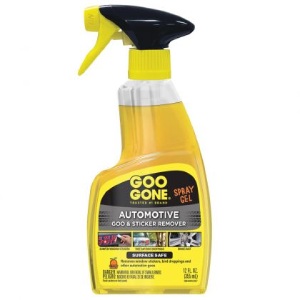 Goo Gone Automotive
What is the difference between Goof Off and Goo Gone?
The main difference between Goof Off and Goo Gone is in their chemical formulations. Goof Off is a terpene-based petroleum distillate. On the contrary, Goo Gone is a citrus-based adhesive remover.
Goof Off is suitable for removing vinyl, PVC, paint splatter, and other tough stains. In contrast, Goo Gone is ideal for sticky substances, labels, and similar stains.
Which is safer for car paint?
Goo Gone is safer for car paint compared to Goof Off. The safest adhesive removers for car paint is usually the least aggressive product, and Goo Gone is milder than Goof Off.
Can you use regular Goo Gone on car paint?
Yes, you can use the regular Goo Gone formula on car paint. However, we wouldn't recommend you to do that. Regular Goo Gone isn't specially formulated for car paint. Hence, you wouldn't get satisfactory results from the product. Instead, you can go for the Goo Gone Automotive product for a better finish.
What are Adhesive Removers Safer for Car Paint?
3M Stripe Off Wheel Adhesive Remover
3M Stripe Off Wheel Adhesive Remover
If you've had bad experiences with liquid-based solutions, it's natural to try something different. 3M Stripe Off Wheel remover might be the one you seek. The 3M Stripe Off Wheel comes in a transparent plastic bag containing a stripe off the wheel, an attachment, and a manual.
With this product, you don't have to worry about drip marks or dulling of paint shine. All you have to do is screw the attachment to the 3M Stripe Off Wheel until it locks in. Next, attach the wheel to a drill (electric or cordless). Then you're good to go!
Although the product can withstand up to 4000 rpm, we strongly advise not exceeding 2500 rpm. Strip Off Wheel removal speeds above 2500 rpm can damage paints. You can prevent specks of decals from flying all over the car's surface by applying a pre-mask around the area about to be cleaned.
Furthermore, avoid spinning the wheel at high speed and keeping it at a particular spot for a long time as this can generate a lot of heat and damage your paint in the process.
Pros
Chemical-free
Easy to use
No drip marks
Quick removal
Cons
Not suitable for fibreglass
WD-40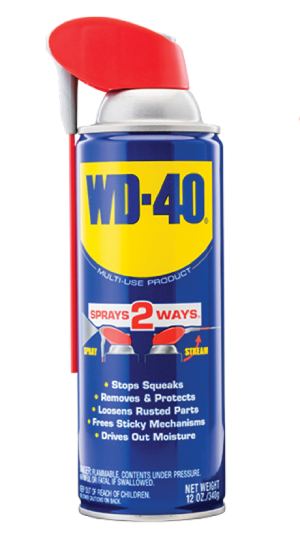 WD-40 SMART STRAW SPRAYS
Since the early 1960s, the WD-40 brand has been doing wonders. The product prevents rust and corrosion, serves as a lubricant, and works well as an adhesive remover. This product features a permanently attached stray that can be sprayed in two ways.
The WD-40 adhesive remover is super-easy to use. Shake the can a bit and spray some of the product on the affected area.Then allow it to sit for some time. After about 3-5 minutes, scrub the stained region with a towel. Note that you may have to apply extra effort to remove some tough stains.
Pros
Multi-purpose
Great value for money
Cons
It may require a lot of effort.
Final Thought
Seeing your paint job get worse in the process of making it better is an agonizing experience – one I wouldn't want you to have. Many car owners have ruined their clear-coat with Goof Off, but this doesn't make the product a terrible purchase. If applied cautiously, this product has excellent results.
However, we can never be too careful; the undesirable might happen when we least expect it. Therefore, it is better to use effective products with very low chances of damaging your paint. Always remember to try the least aggressive method before anything else.
That said, here is a summary of our top picks:
Best for mild sticky substances: WD-40
You may concern: How To Remove an Inspection Sticker