The car wash business is a very lucrative business. It has been around for centuries and will likely continue to be around for centuries more. If you are thinking about starting your own car wash business, there are a few things you need to know before getting started.
7 Steps to Start A Car Wash Business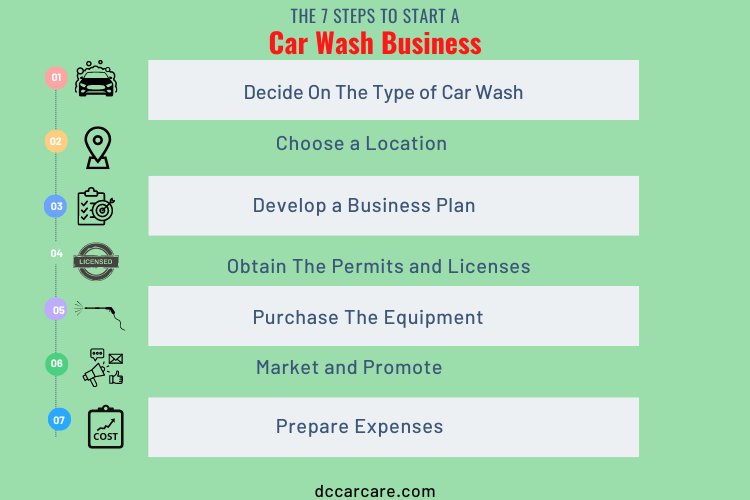 1. Decide On The Type of Car Wash For Your Business
There are three main types of car washes: Full-service, Self-service, and Tunnel washes.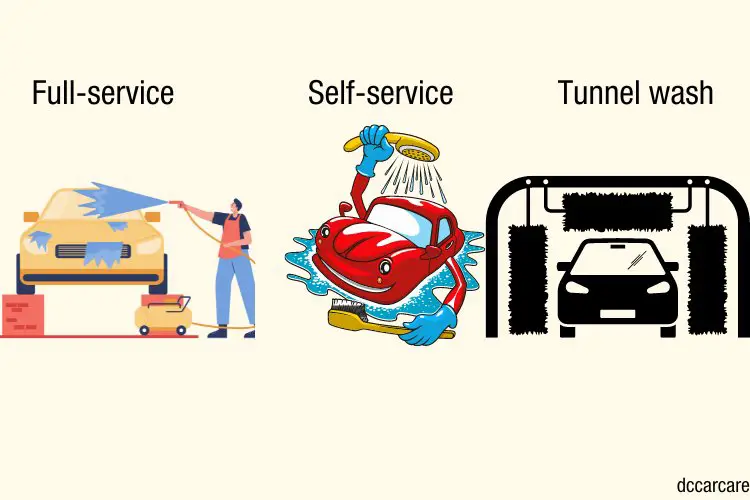 Full-service:
A full-service car wash is a complete car care center that offers everything from wash and wax to interior and exterior detailing. Customers drive their cars into the facility, and workers wash and clean the exterior and interior of the vehicle.
Self-service: 
A self-service car wash is a facility where customers wash their own cars. There is usually a row of washing bays with hoses and other washing equipment. Customers drive their car into the bay, wash their car, and then drive out.
Tunnel washes:
A tunnel wash is an automated car wash that operates inside a long, narrow tunnel. Customers drive their cars into the entrance of the tunnel, and the car is then transported through the tunnel on a conveyor belt. The conveyor belt moves the car through a series of cleaning steps, including washing, drying, and waxing.
Each has its own benefits and drawbacks that you will need to consider before making a decision.
2. Choose a Location
The ideal location will be highly visible, easily accessible, and have plenty of parking.
3. Develop a Business Plan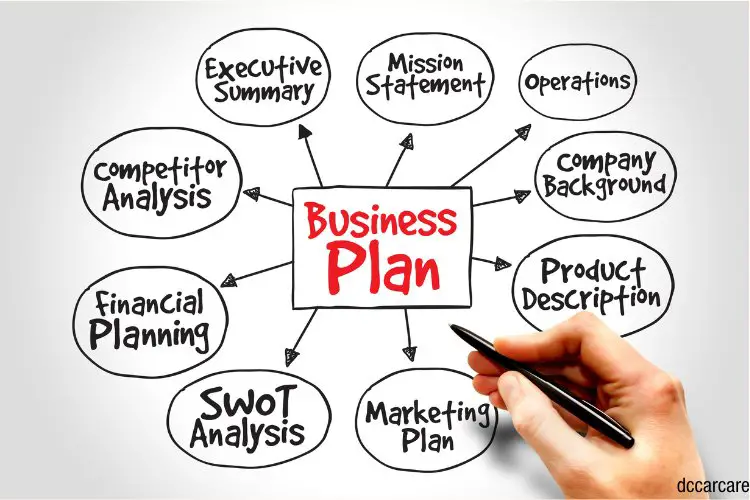 This will help you determine how much money you will need to start your business and how you will generate revenue. A business plan will include:
– Business Mission
– Types of Services
– Marketing and Customers Analysis
– Marketing Plan
– Competitive Analysis
– Location Analysis
– Profit and Loss Statement
– Financial Plan
– Management Plan
– Appendix
4. Obtain The Necessary Permits and Licenses
This may vary depending on your location and the type of car wash you are starting. You should contact your local authority or business agency to complete all documents.
5. Purchase The Equipment
The equipment will depend on types of car wash and services that you offer. Most of them will include basic items such as pressure washers, hoses, brushes, and other cleaning supplies.
6. Market and Promote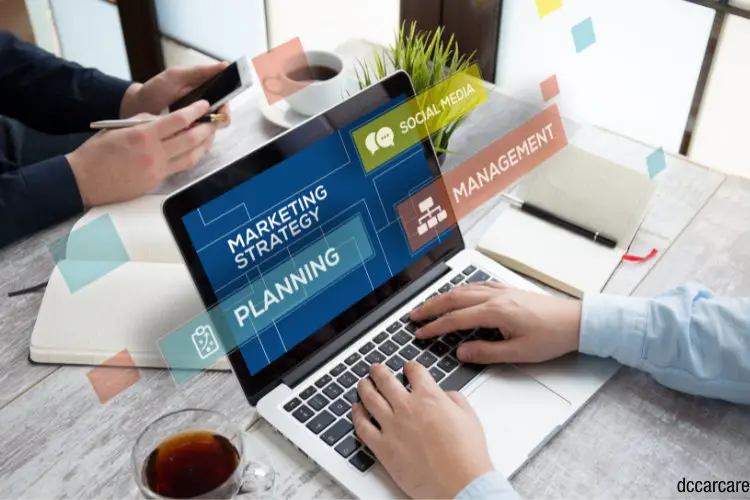 This can be done through online or offline advertising, word-of-mouth, poster, loyalty program.
7. Prepare Expenses
Starting a car wash business can be a relatively low-cost endeavor. The biggest expense will be the cost of purchasing or leasing the land and building that will house your business. Other major expenses include the cost of car wash equipment, signage, and marketing.
The total cost of starting a car wash business will vary depending on the size and scope of your operation. For a small, self-service car wash, you can expect to spend around $10,000 on equipment and supplies. For a larger, full-service car wash, the cost will be closer to $100,000.
How Much Do Car Washes Make?
The amount of money you can make with a car wash business will depend on a number of factors, including the location of your business, the type of car wash you operate, and the price you charge for services.
In general, self-service car washes generate less revenue than full-service or tunnel washes. This is because customers do the work themselves, so the car wash must charge less for its services.
Full-service and tunnel car washes generate more revenue because customers pay for the convenience of having their car washed without having to do any of the work themselves. These types of businesses can make a lot of money, especially if they are located in high-traffic areas.
Things You'll Need
Sun Joe SPX3000 Electric Pressure Washer
TriNova Foam Cannon for Pressure Washer
Vacmaster Professional – Professional Wet/Dry Vac
Car Wash Kit by Armor All
---
With a little planning and preparation, you can start your own car wash business with ease. Just be sure to do your research and understand the ins and outs of the business before getting started.