Scratches are a nightmare for motorists. If you're wondering how many types of car scratches and how much it costs to fix, this post is for you.
I also recommend the best products for car scratch remover so you can do it yourself for surface blemishes. Now, you don't need to check-in for auto repairs every time you spot a scratch.
Small Scratches
These scuffs and minor scratches affect the surface and clear coat level on a car's paint job. The clear coat protects the car's paint from exposure to the elements. These include rain, UV, acid, dust, etc.
Cost Range
Small scratches don't penetrate deep. As a result, they are the easiest to repair. You can use a rubbing compound to correct them by yourself. If you have an auto body shop do it, you can expect to pay $50-$70.
Recommendation: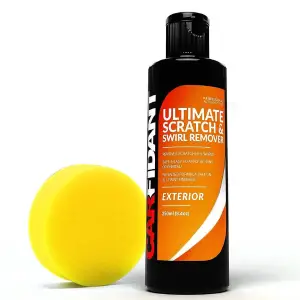 Carfidant Scratch and Swirl Remover
Medium Scratches
These are scratches that are deep enough that they've cut through the paint or base coat. The paint coat provides the color of the car. So, if scratches have removed some of the paint, it means touch-up paint will be applied.
Cost Range
The process of repairing paint scratches is a bit complicated. Not everyone can do an excellent DIY job. So, if you're not sure about how to go about it, you'll want to have them repaired at an auto body shop. They will charge you $400-$1000. Even if the scratch is small, as long as it's deep, it's going to require repainting.
Recommendation:
3D One – Car Scratch & Swirl Remover
Deep Scratches
A deep scratch penetrates all three layers. That's the clear coat, paint layer, and primer, and it exposes bare metal. Such severe scratches are caused by sharp objects such as keys, stones, or a major accident.
It's best to take the necessary steps to repair the scratch as soon as it happens. Otherwise, the exposed metal may start to wear and lower the resale value of your car.
Cost Range
Deep scratches are challenging to fix. You'll need a professional for a perfect repair. In this case, an auto body shop will charge $800-$1500. It depends on the extent of the scratch.
Recommendation: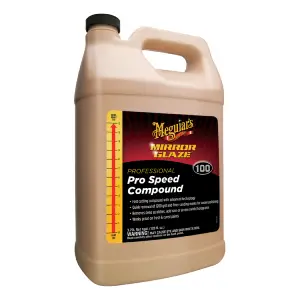 Meguiar's Mirror Removes Deep Scratches
How to Prevent Scratches on Cars?
Scratches are unsightly. They ruin a car's beauty. However, you can take preventive measures, so you don't have to deal with them in the first place.
Drive and Park Carefully
Being a cautious driver will go a long way in preventing car scratches. You'll want to be hyper-alert when driving in busy and congested areas. It also helps to avoid tight sections where objects and hanging branches and shrubs could nick your car.
When parking, look for a spot where there are not many cars. Probably at the far end of the parking lot. Also, avoid parking next to vehicles that are not lined properly. They could end up scratching your car as they leave the parking lot. Furthermore, if you find that a vehicle has lots of scuffs and scratches, it's more likely that the other driver is reckless.
Wash Your Car Gently
Hand-washing your car is better than an automatic car wash. However, you can still scratch your car if you don't use the right tools. Choose a microfiber towel instead of a sponge.
Also, use two buckets instead of one. This is to prevent grime from collecting in one bucket. Besides, it's best to rinse the towel every time you finish cleaning a spot. As such, you'll avoid rubbing back dirt that can scratch the car's surface.
Treat Your Car with Care
Besides driving and washing your vehicle carefully, you'll also want to avoid placing items on the car's roof. Things like keys, pens, and cups can leave scuff marks.
Wax your Vehicle
Wax goes on top of the clear coat. It creates a barrier that prevents friction between the car's paint surface and road grime. As a result, road debris is more likely to slide off the paint rather than cause scratches.
---
3 Best Car Scratch Remover
Eliminate surface imperfections with the Carfidant Scratch and Swirl Remover. This product creates a mirror finish to restore the gloss and brilliance of your car's paint.
Carfidant is professional-grade. It uses high-quality, cutting, polishing compounds. This feature eliminates the need for multiple steps when removing scratches. It even comes with a buffing pad for the process.
Carfidant Scratch and Swirl Remover can remove watermarks, oxidation, and minor contaminants on your car. Equally important is that Carfidant Scratch and Swirl Remover is safe for all paint colors. You can use it on the clear coat, single-stage, or multi-stage paint.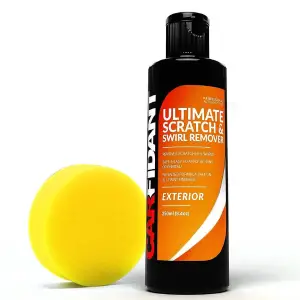 Carfidant Scratch and Swirl Remover
Pros
It comes with a buffing pad
Perfect for all paint colors
Cons
It does not work on deep scratches
If you are looking for a scratch remover, polishing, and rubbing compound plus paint sealant all in one product, 3D One is the brand for you. This bottle gives you full detailing in only one coat. It's no wonder it's called 3D.
3D One – Car Scratch & Swirl Remover can remove scuffs, scratches, and blemishes of up to 13 micrometers in size. Usually, these are scars from road grime and debris. You can expect this product to hold up for a couple of months in excellent condition.
It's good to know that 3D One – Car Scratch & Swirl Remover can also work on some heavy surface imperfections. Still, you may want to apply a ceramic seal if you want the product to last longer.
3D One – Car Scratch & Swirl Remover
Pros
Spreads easily
Safe on all paint colors
Meguiar's M10001 Removes Deep Scratches is a professional's best dream come true. Armed with this heavy-cutting formula, you can eliminate severe defects. From scratches to holograms and even acid rain, this product can cut below the surface.
Meguiar's M10001 Removes Deep Scratches does not contain any fillers. It removes rather than covers blemishes. That's why you can paint the surface after using it. Grab a dual-action polisher or a rotary polisher and get the job done.
In a few steps, you'll be able to remove defects and sanding marks, repaint the surface, and seal the paintwork.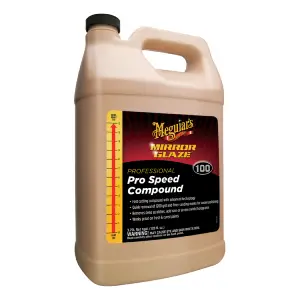 Meguiar's M10001 Removes Deep Scratches
Pros
Pro-level compound
The bottle is cheap for several applications
Cons
It's not ideal for use by hand
---
Sum up
Scratches on your car's paint job can be unsightly. That's why it's best to prevent them from happening. But when they do, you can always get them fixed. Still, you'll want to know how much it costs to fix a scratch on your car before taking it to a body shop. We hope this article answers this question.
We've also looked at three products that can help you get rid of scratch marks for DIYers and professionals.
Don't let scratches damage the look of your car. Get them fixed with our top recommendations.
Read more: 4 Best Car Colors to Hide Dirt and Scratches