Use the following tips pages to help you keep your car or truck in the best shape possible.
These are not necessarily in order of the way I like to detail a vehicle.
NOTE: These tips, products, and methods are good for ANY vehicle, of ANY year. Feel free to write if you have specific questions.
Sometimes it's nice to get an "attaboy" from a noted source. If you take Road & Track magazine, check out the June 1999 issue on page 189 in the Technical Correspondence article. I take the magazine to task for recommending, in a previous issue, that people store vehicles and start them on a regular basis just to keep the valve springs from deteriorating. No less an authority than David Roth of Daimler-Chrysler's Advanced Engine Technology department agreed with me that valve spring deterioration is not a concern. I also made the point that running a car for just a few minutes will create condensation in the crankcase and exhaust system that does much more damage than just letting the car sit till it can be driven for a nice drive of at least 10 minutes! Check out my car storage tips below:
DC Car Care Tips
1. Start With The Interior!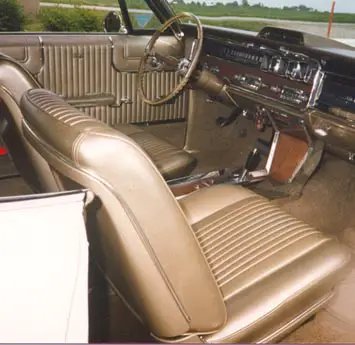 A complicated interior like the factory original interior in my 1966 Grand Prix requires that you use all your skill and patience to keep it looking like new and lasting into the next millennium.
Start with the Interior!
SUPER TIP: When doing a full detail of your ride, try starting with the interior the next time instead of letting it wait till the last. If you wait till everything else is done, you will be hot, dirty and tired. You don't want to carry more dirt into the interior as you are cleaning it, and you will be crawling all over the interior to do a good job of it.
When doing the interior, pull out the floor mats and vacuum them, then scrub with a cleaner like Blue Coral Dry-Clean if not too dirty. Since mats can be removed, you can soak them down good if they are really dirty. Do no NOT want to do this to the carpets. More on carpets in future "Tips."
Do the dash and interior vinyl parts next. This will prevent you from smearing the windows later, then clean the windows, seats, and finally the carpets. Each of these areas, which have their own unique problems.
Each area is covered in detail in future "Tips" so this is just an overview to get you started.
2. The Dashboard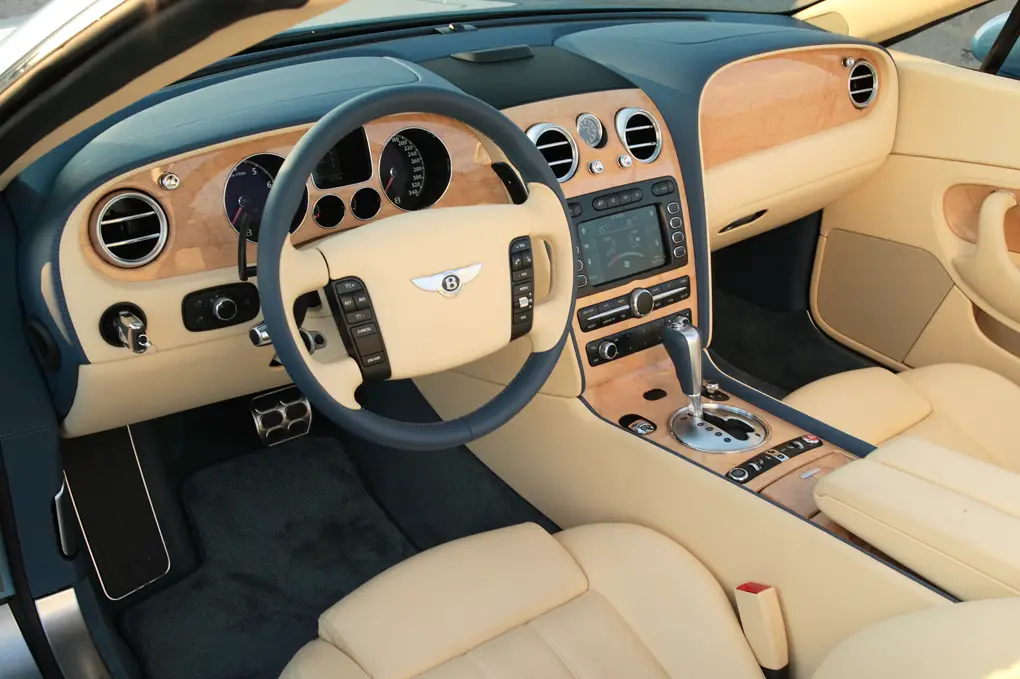 We all like to have a nice new looking interior. When some of the first vinyl care products came out, they made your interior look like it had been dipped in oil. The best of today's products do a better job in several ways.

First, they have UV protectants in them to keep your vinyl from crumbling after a few years.
Second, they don't attract dust like the greasy products of the past.
Third, they don't shine like they did in the past.
You don't want your dash shiny since it will reflect in your windshield and make it a lot harder to see out, especially with the sun from the wrong angle on a cloudless day.
The trick to a nice looking dash without too much shine is to use a quality product like Lexol Vinylex and to apply it sparingly to a dry, lint-free cloth. Then wipe the dash. Finally, turn the cloth to a dry section and wipe again. Your dash will have a healthy glow, but won't shine!
BONUS TIP: Older padded vinyl dashes get brittle. Be careful not to squeeze these older dashes or allow your passengers to do so. People love to put their hands on nice-looking things like your clean and healthy-looking dash pad. So caution passengers immediately not to "squeeze your dashboard". If they must squeeze something, bring along a roll of Charmin for them! If you want more shine on other parts of the interior (or don't like seeing out your windshield) put the product on heavier and don't wipe it off as much.
3. Get Your Carpets Clean the Right Way
We continue inside the car and look towards the center of the earth…..or the floor, whichever comes first!
Get intimate with your carpets and give them a good massage!
So, what is this about a massage! When dealing with carpets, I have found one big no-no and one really good idea. First the no-no.
NEVER soak your carpets with soapy water. This is a favorite trick of dealership detailing shops. They don't know how to get cars looking and smelling like new without soaking the carpets and seats with hot soapy water. Then they park the cars on the lot and close the windows that night. Several days later you have enough mold spores to start a new universe. How do you avoid this? By not using soapy water and not soaking the carpets.
How, you ask, then do you get them clean. Here comes the good idea.
Use a product like Blue Coral Dry Clean. This is a product designed to clean carpets. Spray it on the worst spots and here is where the massage part comes in. Use your FINGERS to work in the cleaner.! Brushes will yank and pull the nap so you get "FUZZY" carpets that look old before their time. Use those fingers and a clean white towel to pat the spot dry. Then spray the entire area with the same cleaner and again work it in with your fingers. Lightly buff with the towel, or pat dry and you will have carpets that look clean, smell clean and won't start their own basketball team made up of green mold! The carpets will dry in about 15 minutes….be sure to leave the floor mats out till the carpet is dry.
You can use the same product on most cloth seat fabric.
As always, test a hidden area of the carpet before using any cleaning product to make sure your particular carpet is colorfast. Almost all factory carpets are, some aftermarket cheap products may look nice, but the dye can come out….so test first!
4. How to Get Smells Out of Your Car
You have to think like a smell to get rid of them!
I mentioned that one of the big no-no's in detailing is to use buckets of hot soapy water on your interior. That is one of the biggest creators of a sour-smelling interior and it makes getting the smell out super hard.
So, how do you think like a smell? People that are good at porting racing heads like to say they "think like air" when grinding and filling ports to make horsepower. They know that air moves in a certain way. Air moves in a car interior too. Smells come from one basic thing…moisture. Moisture creates mold and mildew. Spilled mustard is wet and, if it could only totally dry, it wouldn't smell, but there is always some humidity in the air, and that is why the smell keeps coming back.
That is why you don't use lots of water on an interior. A bad smell like pet urine soaks into your carpet. If you use hot soapy water on it, you dilute the problem but spread it over a larger area. Once the smell is bad, then it coats everything inside the interior. The dash, seats, carpet, (and here is where you have to think like a smell) even under the seats, dash and on the headliner! Yes, that smell may be coming from above your head!
You must also determine how deep the smell is. Smells on the headliner will be surface only unless it has gotten wet somehow. But smells on a carpet can be down past the padding underneath. If the smell producing problem is on the surface, don't make it worse by soaking the entire area and spreading to deeper and wider. Use your carpet cleaner in a small area and if the smell is deep, soak only that area with something to kill mold/mildew and neutralize smells. The stain from most spills is just nap deep, the smells can be much deeper.

SUPER TIP: To really make your car smell fresh, continue thinking like a smell and don't forget to deodorize the heat/vent/air conditioning (HVAC) system. Spray the very mild water/chlorine bleach mixture (2-3% bleach at most) in the air intake with your system fan on high and cycle it through the different modes. Mold/mildew can get into these areas and cause a bad smell every time you turn on the system.
5. Windows and Clear Plastic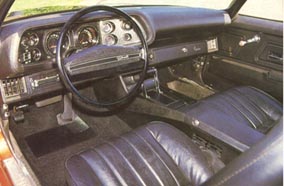 These are two completely different problems, so let's break them down:
Glass
We have all fought with re-appearing streaks and fog on the inside and outside of the glass in our car (and home). The problem most of the time is the type of cloth/paper we wipe the windows with. Typical paper towels just don't work for this type of job. Cloth is even worse, what a smeared mess!
What you need is the detailers secret (and almost totally free) method. Newspaper. Here is how I get a clean window. Use a good cleaner. I make my own from distilled water, a bit of ammonia and denatured alcohol. Use them in a 10-1 ratio of water to alcohol with just a splash of ammonia per gallon. Put it in a trigger spray bottle and coat the glass well. Then use a good paper towel. I like the blue paper "shop towels" that are in most discount stores. Wipe the windows down but not dry!
Next take a wadded up newspaper page and dry the window. Start by going around the edges, then wipe over the whole widow and repeat till gleaming. Do it again if you still see streaks and use a new newspaper. Remember to do both the inside and outside.
NOTE: Do not use the newspaper trick on aftermarket plastic widow tint, or on soft plastic windows or gauge/lens covers. It could leave fine scratches in the surface. It won't hurt glass.
A rubber squeegee works well outside, but makes a mess inside, and leaves water dribbling over the outside too, so the above newspaper trick works the best from what I have found.
Plastic Gauges And Plastic Windows
Here you do NOT want to use paper towels or newspaper. Treat these items like a fresh clear coat paint job. Use your softest polishing towels. Ones completely clean (remember never use or wash final polishing cloths with those used to compound or wash dirt off your car, keep the two types of shop "rags" separated, more on shop rags in the near future).
Meguires makes an excellent clear plastic polish that is an extremely fine cut polish. Used with care with a soft cotton polish rag like our 100% cotton polishing cloths, you will keep lenses looking like new for years. This product also works with taillight lenses and plastic headlights. Do NOT put products meant for vinyl on hard clear plastic.
Super Tip:  Avoid dry dusting dash gauge lenses at shows, this will put fine scratches in them faster than anything.  Use a clay product (sometimes called "Quick Detailer" sprays) lightly on a soft cloth (don't spray the lens directly, it could run down into the gauge).
6. Car Wash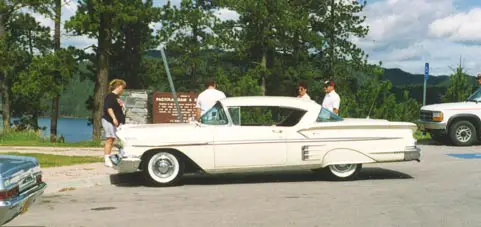 Caring for an all-original, low mile classic like this 58 Impala was a pleasure, but would you use dishwashing soap on it?
The dishwashing soap myth
Companies that have a vested interest in you buying their products have been spreading the word about all the damage that dishwashing soap will do to your car. Here is my take on all this.
The reason you wash a car is to remove dirt. To do that you need to do several things, most important is you need to make the water….wetter.
This may seem silly at first, what is more wet than water after all? Well, lots of things, but first and foremost, water has a thing called surface tension. This is what keeps water beading on shiny cars, and why you can fill a glass higher than the rim, up to a point. A good car wash soap will act to break down the surface tension. That is why soapy water doesn't bead.
Second, a wash soap must remove grease and dirt. It needs to be a detergent to do that, otherwise you are depending on the action of the wash cloth/mitt on the paint to scrape off the dirt. Not a pretty picture.
Third, a wash soap should make your paint feel slimy or slick, that means it is helping surround those bits of dirt/grease and let them rinse off your car.
I have tried lots of car wash products intended specifically for a car. Here is what I have found:
You CANNOT wash and wax your car at the same time.  You can only do one or the other well.  Any product claiming to do both is a compromise or worse.
Dishwashing soap does not "strip" wax off cars.  I use Liquid Ivory exclusively on all my cars.  Several national champions, 40 year old original paint, and daily drivers.  The act of washing with ANY product will take a little bit of your wax off.  That is what it's designed to do!  Wax is supposed to slowly wear off to keep dirt from embedding in your paint.  That is why Carnuba is such a great product.  Every time you wipe, wash, rinse etc your car, you strip wax.  It's going to happen no matter what you use.
Use a small squirt of Ivory Liquid in a bucket of water. You will get lots of suds. These are essential to helping get the dirt off your paint and away from your car without scratching. Any wash product that doesn't make lots of suds that last, is doing more harm than good. Most car wash specific products do not make good suds, and when you feel the wet paint it is not slick, but grabs at your hand. Ivory is slick and rinses clean.
Wash from the top down, and have two wash mitts/cloths. Use one from the beltline up and another from the beltline down. The Beltline is about the middle of the side of the vehicle. Below this a lot of scratchy silicone build-up and you don't want this in your wash mitt for the top/hood/trunk.
Wash one section at a time and use lots of water at low pressure to rinse. By using a thick stream of water gently played over your car, you can make that surface tension work for you, to help take more beads off the car making it easier to dry.
Myth: High pressure car washes are bad
If all you ever did was use a high pressure car wash, it would be worse for your car than always hand washing correctly. But most of us don't have the luxury or time to hand wash every week or two.
I use those wand type car washes all the time. In the winter, on non-freezing days, they are great to keep salt/crud off your car when you can't wash by hand. I even use the full service washes once in a while. It's better than leaving acid rain, dirt and worse on your car if the weather won't let you do it right. Search for the newer washes or those that are maintained well. Don't go by the number of expensive cars entering the wash, many times people with too much money don't care what happens to their cars, since they will have a new one next year. Look over the business yourself and see if it looks like it would be at least somewhat kind to your paint.
Super Tip: When washing your car at a wand type wash, use the rinse function and spray at crevices and cracks where dirt can accumulate. You want to get lots of water behind these and clean out the dirt. Remember it's not water alone that causes rust, it's water combined with dirt. If you never rinse these areas they will accumulate dirt and get wet anyway as it rains. Better to power wash them often.
I have a synthetic chamois that I have used for almost ten years. These things are great. I finally found the company that sells them in the next state! The Hydra-Wipe I offer is just $14.95 and will outlast a dozen expensive natural chamois. When it gets dirty, just wash in the sink. If you want a high gloss, then follow with soft white bath towels after using the chamois. This will get rid of the tiny beads left.