Clay bars need an excellent lubricant to help interface between the clay and paintwork. Clay bar lubricants are often promoted as the sole solution to achieving a perfect finish (or near-perfect) on any car detail.
However, choosing a best clay bar lubricant is not easy.
This article will recommend 3 best products that work perfectly.
Chemical Guys have been around since the 1970s and have built quite a reputation. The Clay Block Kit comes with a 16-ounce synthetic lubricant and a clay block. The lubricant serves a dual purpose; first of all, it is a clay lube, and secondly, a detailer for your car. Therefore, this kit helps you lift contaminants like rail dust, bugs, tar and gives your vehicle a smooth finish when the claying process is over.
The clay block also has a comfortable grip, and easy to use. All you have to do is spray and clay. Furthermore, the lube gives off a pleasant bubble gum scent, while the clay block doesn't strip off your car wax.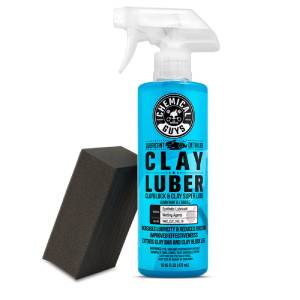 Chemical Guys Clay Bar Lube
Pros
Leaves a smooth finish
Great value for money
Pleasant bubble gum scent
Easy to grip
Cons
Some clay bars are contaminated
Most clays on the market are usually stiff, but Mothers 07240 California Gold offers something different. This clay kit is more malleable, making it easier to use and remold for subsequent use.
Mothers 07240 California is very generous with their clay kit. In the box, you'll find a 16-ounce instant detailer, two gold clay bars, and a 16" x 16" microfiber cloth to wipe off your car when you're finished claying. You can use this product on glass, plastic, and trim.
The instant detailer can be applied to many surfaces, including clear coats, and it gives off a mild cinnamon scent.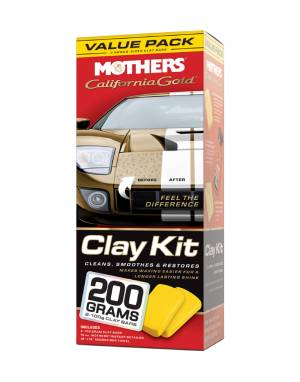 Mothers 07240 California Gold
Pros
Clay bar doesn't mar or scratch clear coat
Achieves a smooth and shiny finish
The Meguair's G10240 Smooth Surface clay kit comes last on our list, but it's not the least in quality. The box holds three 80-gram clay bars, a lubricant and a microfiber towel.
Meguiar's G10240 clay bar is malleable like the Mother's California clay bar, and it is also long-lasting. While claying, the bar might fall, leading to waste. With this bar, you no need to worry about that; you can wash off dirt from the bar with ease if it falls.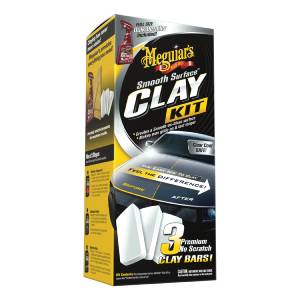 Meguiar's G10240 Clay Bar Lubricant
Pros
Easy to use
Comes with three clay bars
Picks up a lot of grit
Cons
Detailer spray leaves a light blue residue
How Does A Clay Bar Lubricant Work?
Tiny bits of metal, tree sap, brake dust, and other invisible particles bind to our paintwork when we drive around town. These contaminants are binned into the vehicle paint. They don't come off during regular washing.
You might ask, "If these contaminants are invisible, what harm can they cause?''
Well, you must go through the claying process if you plan to polish your car. If not, those invisible particles on the surface cause swirl marks and scratches.
Clay bars are synthetic or natural resins that lift these particles from the vehicle surface and lubricants to allow the clay bar to move freely on the surface.
Mothers 07240 California Gold Clay Bar Kit
Is Clay Bar Lubricant Important?
Yes, clay bar lubricant is essential for the claying process. The vehicle's surface must be well lubricated. If not, the clay bar may end up leaving swirl marks on the paintwork.
Besides, clay bar lubricants allow clay bars to glide effortlessly on paintwork to reduce marring. They also prevent your clay bars from leaving deposits on your vehicle, which is very common with dry claying.
Moreover, the best clay bar lubricants add more depth to your paint, leaving it with a glassy feel. Though this silky feel doesn't substitute polishing your car, it's one of the benefits of claying.
Can water, wash soap, dish soap be clay bar lubricant alternatives?
Indeed, there are many substances that some people consider as alternatives to the clay bar lubricant. Wash soap, dish soap, and water are popular options.
Though the mentioned alternatives are better than rubbing dry clay on dry paint, they are not the best option for you. The reason is that they lack the slickness of clay bars. The resulting sleek feel of your automobile should be a primary factor to consider when choosing a lubricant. Going by this factor, it is understandable why I cannot recommend water as a lube – it just isn't slick enough.
Neither are household detergents like dish soap, glass cleaners, nor others suitable for your car paint. Although they may provide a reasonable amount of glossiness, they weren't formulated for cars. As a result, the continued use of such domestic products will negatively affect your vehicle paintwork. Even worse, it may strip off any wax you have on your car's surface.
That is why I highly recommend products formulated to allow clay bars to glide with ease on the surface of your automobile. I have provided you with a list of three top clay lubricants and why I put them on that pedestal.
Chemical Guys Clay Block and Luber
Sum up
Many people mistake using only water, dish wash, or a household cleaner as a clay lubricant alternative. These items are not suitable lubricants, and they end up causing more damage to your paint.
Hence, we recommend you utilize any of the clay bar kits discussed in this post. These clay kits are formulated by established auto-detailing brands with a good track record.
You may concern: 3 Best Car Wash Pressure Washers You Should Buy