No one wants to drive around on tires that look like they've been through a mud bath. Do you agree with me?
If you're looking for the best no-sling tire shine to keep your tires looking great, I've got you covered!
In this post, I'll discuss the benefits of using a no-sling tire shine, and I'll recommend my favorite products!
What are Benefits of Using No-Sling Tire Shine?
Most tire shines on the market today contain silicone, which can sling off of your tires and onto your paint job! Not only is this unsightly, but it can also be dangerous if you get silicone on your windshield. A no-sling tire shine is a great option for those who want to avoid this messy situation.
There are several benefits to using a no-sling tire shine. First, it's much safer for your paint job. Second, it provides a long-lasting shine that will make your tires look great! Third, it's easy to apply and doesn't require any special tools or equipment.
How Many Types of Tire Shine?
There are three types of tire shine.
Wet Spray
A wet spray tire shine is a mix of oils and polymers in a water-based formula. It comes in a spray bottle for easy application. As its name says, a wet spray leaves a wet-like finish that is extra glossy. Thanks to the thin consistency, the spray can penetrate the tires' ridges for even application. However, because it's a water-based formula, you'll need to apply it more often, especially in inclement weather.
Foam Spray
This type of tire shine is similar to a wet spray shine because it's water-based. Because of the formula foams and evens out, it can eliminate the need for using an applicator. However, you'll still need a microfiber cloth to wipe off the excess.
Gel
A gel shine comes in a thicker consistency which makes it easy to control how much you apply. It is also cheaper and can last longer than solvent-based tire dressings. However, it takes more time to use a gel shine. This is because you have to apply the dressing onto a microfiber cloth and rub the gel onto the tires.
What Features To Make A Good Tire Shine?
UV Protection
An added feature in tire dressings is UV protection. This attribute is beneficial since the tire shine can protect your tires from damage from the sun's UV rays. It's essential if you park your vehicle in the sun for long.
Dry Rot Prevention
Those visible cracks in a tire's tread are what's known as dry rot. You could prevent or delay their occurrence when you can't help natural degradation. A water-based tire dressing should be your go-to for protecting tires. This is opposed to a petroleum-based product that could degrade the rubber's weathering agents.
No Sling
Some tire shines have specific nuances and formulas that affect the drying time of a product. Brands that require using only a tiny amount have minor incidences of tire sling. The same goes for tire shines that dry fast. Also, you may want to stay away from dressings that clump.
Longevity
Wet sprays have the shortest longevity of only a couple of days. The best can go up to four days if the weather is not wet and you don't park in the sun. Foaming shine can last up to a week, while gel dressings can last several weeks.
However, it all depends on what's on your tires. If you can't remove dried brake fluid, the dressing won't apply evenly. So, even if you have a high-quality formula, it won't last as long as it should.
So, it's best to look for a formula that can survive car washes, UV rays, dirt, and car wash soaps.
Good Price
Tire shine can be as cheap as under $25, you will get a decent quality tire shine that will last for a week or two. However, it may not be the longest lasting option and you may need to reapply it more often than some of the more expensive options.
For mid-range: $25-$70, you can expect a product that will last longer and provide a higher quality shine.
The most expensive tire dressings are over $70 price range. These tire shines offer bigger cans or more features such as UV protection and a variety of finishes.
---
Best Tire Shine No Sling and Long Lasting
I've tested six below no-sling tire shines, and I see the best one is Chemical Guys TVD11364, the second is Adam Tire Shine, and the third is Armor All Extreme Tire Shine.
I have been using Chemical Guys TVD11364 Tire Shine for a few months now and it is by far the best tire shine I have ever used. It goes on evenly and makes the tires look shiny, the smell is amazing.
Chemical Guys TVD11364 Tire Shine is an easy-to-use sprayable tire shine that provides an extra glossy finish. The formula is designed to kick off the discoloration that can cause your tires to look dull, while the high-gloss finish provides an extra layer of protection against the elements.
One thing I don't like is it doesn't last long but it is definitely worth the money and I would highly recommend it to anyone looking for a tire shine.
Overall, I rate it 4.9 out of 5 stars. You can buy it below:
Chemical Guys TVD11364
I can say that Adams Tire Shine is the second no-sling tire dressing based on its water resistance.
I have used it for many years, and it never makes me disappointing. I can take my tires under the sun without peeling worry because it has a high UV protection rate. This tire dressing provides SP35 UV protection. It prevents browning from oxidation since it does not fade
It left my tires looking new, not greasy, and held up the weather better than other products.
What's more, I also like the smell like bananas.
One drawback that I don't like is the terrible shipping experience. The bag was a mess when I received.
I rate it 4.8 out of 5 stars. Buy Adam Tire Shine below:
Adam's Tire Shine
I have used Armor All Extreme Tire Shine for years and have never had any issues.
First, I cleaned my tires, then applied it directly to the tire using the applicator brush. Let it dry for about 5 minutes before driving.
This product is the third on the list of my favorite products. It doesn't leave your tires looking greasy and wet like other brands. It's easy to apply and lasts for 15-20 days, depending on the weather conditions.
Besides, Armor All Extreme Tire Shine is very affordable and has UV protection.
One problem with this product I had was the bottle had a leak when I opened it. It may be due to a shipping issue.
I rate this product 4.8 out of 5 stars. Buy Armor All Extreme Tire Shine below:
Armor All Extreme Tire Shine
Meguiar's has been a staple product for many car enthusiasts. It is one of the most affordable tire shine products with a long-lasting finish. This product is gel-based. It will take a bit of effort to apply, but the elbow grease is worth it.
Meguiar's G7516 does not sling. It's versatile in terms of aesthetics since you can control the shine. I like that it smells great, and you can expect it to last up to four weeks. All thanks to its water-repelling and oxidation-resistant features. 
I rate it 4.7 out of 5 stars. Buy Meguiar's G7516 below:
Meguiar's G7516 Endurance Tire Gel
303 Tire Coating & Protectant is one of my favorite. I love a natural, satin look on tires that the 303 Tire Coating & Protectant brings. This product boasts sling-free application and long-lasting UV protection. Thanks to its foaming formula, the product takes a short time with the least effort to apply. It does not require a brush or tools for application. 
Because it's water-based, I can apply 303 Tire Coating & Protectant as many times as. It does not have elements that can degrade rubber. 
I rate it 4.6 out of 5 stars. Buy 303 Tire Coating & Protectant below:
303 Tire Coating & Protectant
Turtle Wax is the last on my recommendation list. This product is a proprietary blend of polymers. It's a wet formula, so after the two applications, my tires shone brightly. I can compare the shine to how a vehicle looks when leaving the showroom.
This product requires only 3-5 minutes to dry. It also evens out by itself you may not need an applicator or a microfiber cloth, except for wiping off the excess. Still, Turtle Wax T217RA Wet 'N Black contains a blend of silicone that makes it water-resistant. As a result, it can survive car washes and the next rainstorm. 
One downside of this product is it can look cloudy when you apply too much.
I rate it 4.5 out of 5 stars. Buy Turtle Tire Shine below: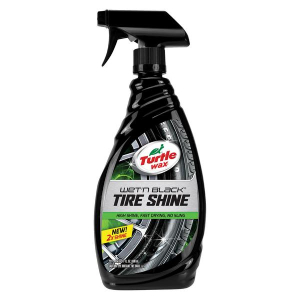 Turtle Wax T217RA
Final Thought
In this best tire shine no sling recommendation list, you can now opt for the best option for your vehicle.
My top 3 best choices for no sling tire shine are Chemical Guys TVD11316, Adam Tire Shine, and Armor All Extreme Tire Shine.
Chemical Guys TVD11364
Adam's Tire Shine 16oz
Armor All Extreme Tire Shine