The perfect car wash system is not complete without the best soap for your pressure washer. However, you can't pick any detergent to bring back luster to your vehicle. Only soap dedicated for use with pressure washers will do the job.
So, here I present my top picks for personal and professional use. These brands set themselves apart. They not only use potent ingredients, but they rinse without leaving streaks.
Let's reveal the best car wash soap for pressure washer to have a right purchase.
Best Soap For Pressure Washing Car (Quick Comparison Chart)
Products
Pros
Cons
Sun Joe
- Best for standard cleaning

- Safe for environment

- Comfortable smell

- Thick & snow suds

- Reduces the risk of scratches and swirls


Not for heavy duty cleaning.

Karcher Car Wash

- Best for cleaning and protecting

- Does not leave any residue

- Biodegradable formula

- Good smell


Not a good option for patio or deck cleaning.
Simple Green
- Best for cleaning tree sap, bug splatters, and bird droppings.

- Brighten car's surface.

- Creating a thick foam


It may hurt clear coat.

Best Car Wash Soap For Pressure Washer
I have used different types of car wash soap, but below are the three best car wash soaps to use with the pressure washer I like best. Sun joe Snow Foam is the best solution for standard cleaning; Karcher Car Wash & Wax Soap will give you extra protection, while Karcher is the best for heavy-duty.
1. Sun Joe SPX-FCS1G CRM Premium Snow Foam
Best for the standard cleaning.
What I Like
Sun Joe SPX-FCS1G CRM preserves wax jobs, is biodegradable, and smells great. I love that it's a fast-foaming formula.
I have used this product on all types of automobiles since it's also gentle on paint and metal. It has three scents: pineapple, orange and vanilla combo, and coconut. And, I only need 0.2fl oz to a gallon of water to get rich suds. 
Besides, Sun Joe SPX-FCS1G CRM captures dirt owing to its thick-viscosity formula to reveal a radiant surface. This brand does not eat up wax or sealant. So, it's perfect for between waxes.
What I Don't Like
I had a bad experience with item shipping. There was a small leak when the product came. So I had to pour it into another replacement can.
 Overall, I rate Sun Joe SPX-FCS1G CRM 9.8/10.
Buy Sun Joe SPX-FCS1G CRM for your pressure washer below: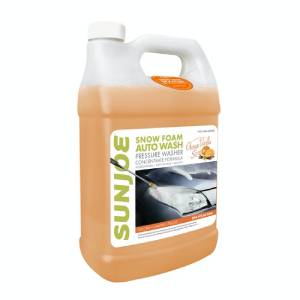 Sun Joe SPX-FCS1G-CRM Premium Snow Foam
Pros
Fast-foaming formula
Gentle on paint, wax, and metal
Biodegradable
You can use it with a brush or mop
Cons
Needs working on small sections at a time
2. Karcher Car Wash & Wax Soap
I have used Karcher Car wash soap with my electric pressure washer for years; it always gives me fantastic results.
What I Like
Karcher Car wash soap works well in removing all dirt and stain on car paint. Especially, it leaves no residue behind.
Another feature I like is a biodegradable formula, it's safe for the environment.
Moreover, Karcher soap leaves my car sparkly and protected. It comes with wax added to the product. As a result, it can provide a bit of protection between waxes. 
The smell is very friendly.
What I Don't Like
Karcher works excellently on the car; however, if you consider something to clean your patio or deck, it may not be a suitable option.
Overall, I rate Kacher Car Wash Soap & Wax 9.5/10. Good at cleaning and protecting. Buy it below: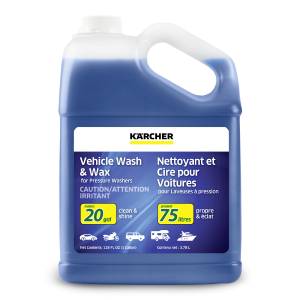 Karcher Car Wash & Wax Soap for Pressure Washers
Pros
Non-toxic and biodegradable
It gives cars a nice shine and slight wax protection
Strong enough to remove tough grime
Cons
It's not strong enought for patio cleaning
3. Simple Green Oxy Solve Concentrate
I choose Simple Green for my car heavy-duty cleaning.
I have used Simple Green to clean bird dropping and tree sap on my car paint. It cleans excellent in my electric pressure washer, and brighten my car's surface.
Simple Green creates thick suds that soak up dust and grime super fast. You'll have an easy time washing routine driving dirt or tough caked-on dirt.
I used it on your foam cannon for thick foam and effortless cleaning. 
What I Don't Like
Because Simple Green can do a heavy job, I have to apply wax to protect my clear coat after using it.
Overall, I rate Simple Green 9.5/10. Buy it below:
Simple Green Pressure Washer Cleaner
Pros
Lifts dust, grime, and stains
Fast-acting
Only a tiny amount is needed
Car Wash Soap For Pressure Washers ( Buying Guide)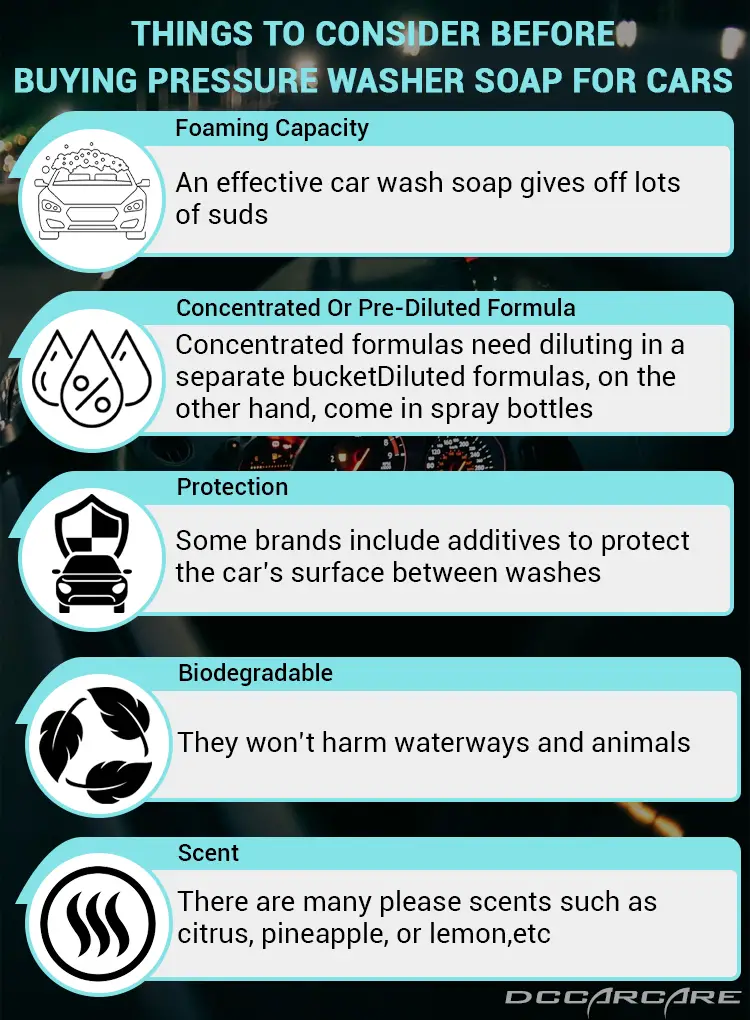 Give your ride some love by using high-quality soap. You don't want to have streaks and scratches ruin a nice paint job. So, after you've picked a good foam canon, the next thing you want is to choose soap while keeping a few things in mind. 
Foaming Capacity 
An effective car wash soap gives off lots of suds. It indicates that the soap is highly capable of removing road grime, grease, and dirt. This is because it lifts dirt particles off the surface of a vehicle. What's more, lots of bubbles soak up dirt, so you don't have to scrub the car's body. It reduces the chance of scratching the car's surface during cleaning. 
That's why you'll want to note the foaming capacity of the soap you have in mind.
Concentrated Or Pre-Diluted Formula 
You'll find concentrated and diluted formulas for use in a pressure washer. Concentrated formulas need diluting in a separate bucket. They are a bit handful but are on the budget-friendly side. One bottle will sustain your vehicle through several washes. 
Diluted formulas, on the other hand, come in spray bottles. Some can be attached directly to the pressure washer hose. They are convenient because they are pick-and-go and you don't need a foam cannon. The only disadvantage is that they are costlier than their concentrated counterparts. 
Protection
Some brands include additives like wax to protect the car's surface between washes. The wax bonds with the car's outer coating so it can stay on the car's surface long after washing the vehicle. 
However, cleaners with additives are not ideal for concrete driveways, house siding, decks, and outdoor furniture. 
Biodegradable 
Are you concerned about harming your landscape plants?
You will want to consider a biodegradable pressure washer soap. Fortunately, many brands are now biodegradable. The best soaps are EPA-endorsed. It means they won't harm waterways and animals. But to be safe, always look at the label. There should be a safety status. If not, you can contact the manufacturer or look up the ingredients on the MSDS. 
Scent 
Yeah, we know it's a car wash cleaner. But did you know that some soaps are too intense that they irritate drivers? As a result, you'll want a cleaner that has a pleasant scent for you. So, if you like citrus, pineapple, or lemon, go for it.
Sum up
I hope my review and buying guide serves as an eye-opener when choosing your next soap for your car pressure washer. These cleaners are your best bet at speeding up the cleaning system. 
Sun Joe SPX-FCS1G-CRM Premium Snow Foam
Karcher Car Wash & Wax Soap
Simple Green Oxy Solve Total Outdoor Pressure Washer Cleaner
Do pressure washers need special soap?
Yes. Pressure washers need special soap. Unlike dish soap, pressure washer soap can withstand the high pressure and power of these machines. Such soap can work at different velocities and pressure of the pressure washer unit. 
So, to ensure that you get the most out of a pressure washer, it's best to use it together with dedicated pressure washer soap. 
Can you use car shampoo in a pressure washer?
Car shampoos are incompatible with pressure washers. They are for manual applications. As a result, you won't get as many suds as you'd want in a pressure washer. To this end, you'll use too much of it to get rid of stubborn grease. So, it can cost you more than getting a good pressure washer cleaner. 
Read more: Foam Gun vs. Foam Cannon