Blast dirt off your car and watch as caked-on debris fly off with the best car wash pressure washer. The ideal pressure washer saves you time and money while cleaning tough stains. Let's walk you through the best options in the market.
In this guide, we not only take a closer look at top recommendations, but we'll also help you choose the best car wash soap for pressure washers. So, without further ado, here are our top picks.
3 Best Car Wash Pressure Washer Comparison Chart
Best Electric
Power Source


Best Gas
Power Source


Best Battery
Power Source


Sun Joe Washer
Westinghouse Washer

WORX Washer
Overall Score


9.5/10


9.8/10


9/10


Summary


A medium-duty pressure washer for light washing tasks. With an incredible PSI, cleaning dirt and grime is a breeze.


Have a tough cleaning job? This pressure washer packs the muscle for powerful, heavy-duty cleaning.


A powerful jet stream from the Worx Hydroshot shifts stubborn dirt without damaging the paintwork.


Key Features


- 1.76GPM.
- Replaceable metal garden hose adapter.
- Lightweight wand.
- Handle and wand extend 30 inches.
- Dual cleaning tanks
28 pounds.


- 2.5GPM.
- Maintenance-free axial cam pump.
- 212cc, 4-Cycle Engine
0.5gal soap tank.
- Robust steel frame.
- Never-flat wheels.
- CARB-compliant.


- Three pressure settings.
- 5-in-1 nozzle.
- 20 mins runtime on one charge.
- Solid construction.
- Interchangeable Worx battery.
- Compact and lightweight.


Maximum Pressure


2030 PSI


3200 PSI


320 PSI


Hose Length


20ft.


25ft
20ft.


Nozzle
5 Nozzle Tips

5 Nozzle Tips

5-in-1 Nozzle Tip

Check Price

Check Price
Check Price
Things To Consider Before Buying a Car Wash Pressure Washer
Having a pressure washer is handy at home or your car detailing shop. It's cleaning ability is impressive since removing dirt and grime is fast and effective. A pressure washer is valuable for your time, but only if you get a good one.
Investing in the wrong pressure washer can be frustrating. You may end up with damaged parts if you pick a light-duty model for multiple vehicles.
To this end, let's look at some things to consider before buying a pressure washer.
Power Source Options
There are three choices of power supply- electric, gas, or battery-powered pressure washers.
Electric Pressure Washers
These pressure washers plug into an outdoor power source. They start quickly with the flip of a switch since no priming is required.
Most electric pressure washers are medium-duty models designed for routine car washes, small driveways, and garages. These models are relatively quiet and lightweight. They require little maintenance because they don't create exhaust fumes. And in winter, no winterization is required.
However, these models' range is limited to the length of the hose. But you can always extend the working area by adding an extension lead for outdoor use.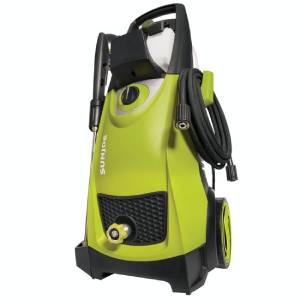 Sun Joe SPX3000
Gas Pressure Washers
These units deliver lots of power and pressure to clean more vehicles, large driveways, decks, and house siding. They are ideal for removing stains, such as tree sap, bird droppings, paint, and tough road grime. Nevertheless, you'll have to deal with noise upwards of 80dB. The pumps also need winterizing with antifreeze before storage. And owing to their high power, you have to be cautious not to chip paint when using high-pressure settings.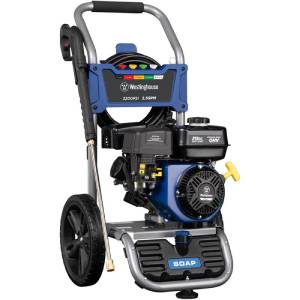 Westinghouse WPX3200
Battery-Powered Pressure Washers
Cordless pressure washers provide a little more oomph than working with a garden hose. They are perfect for small car cleaning tasks, car mats, and other light-duty jobs.
WORX WG625.4
Max Pressure
How much PSI do you need? A high PSI does not mean better. High PSI starting from 3100 PSI is best for the toughest stains or paint removal. 2000 – 2800 PSI is ideal for routine car washing, garages, and driveways. On the other hand, a PSI below 500 is for simple tasks such as everyday washing of your vehicle alongside patio furniture and small decks.
Be Wary of Nozzles
The nozzle of your pressure washer controls the angle and intensity of water being sprayed. Some units come with interchangeable nozzles, usually color-coded, while others have an all-in-one adjustable nozzle.
The nozzle allows you to change the angle of the water. Interchangeable nozzles provide customized spray angles. But adjustable nozzles are favorable. All you need is to twist the nozzle to change the spray pattern and angle.
A word of caution, though; never use the zero-degree/red nozzle if you don't intend to remove paint. It's the most concentrated and can lift and remove weak paint spots.
Top 3 Best Pressure Washers for Cars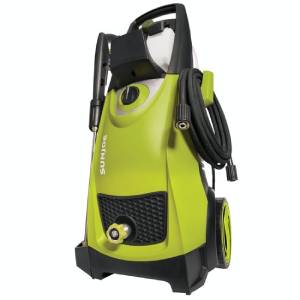 Sun Joe SPX3000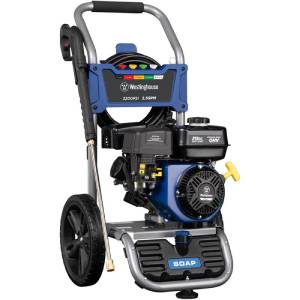 Westinghouse WPX3200
WORX WG625.4
Read more: Best Soap for Car Wash Pressure Washer
Read more: Foam Gun vs. Foam Cannon
1. Sun Joe SPX3000 2030 Electric High-Pressure Washer Review
Spend just a few minutes washing your car, patio, or deck with the Sun Joe SPX3000. It's our pick for the best electric car wash pressure washer. Thanks to its 1800-watt motor, it can produce 2030 PSI. As such, it is a medium-duty unit.
Why Sun Joe SPX3000?
If you want a powerful pressure washer that's not as noisy as a gas washer, you'll want to work with Sun Joe SPX3000. First, this washer is easy to operate owing to its lightweight wand. Even teenagers can operate it efficiently. The quick-connect at the end of the wand makes it effortless to change the five nozzles. Plus, the wand can extend 30 inches. It means you won't get wet from the spray, and you'll be close enough to see what you're doing up close.
Well, Sun Joe can blast off dirt, and dirt in hard-to-reach areas blows right off. You'll like that it works very well with a foam cannon, and it's pretty good at cleaning wheels, wheel wells, and floor mats. This washer speeds up the process meaning it won't take ages to rinse the soap off.
Generally, Sun Joe SPX3000 is a top pick for a variety of cleaning tasks.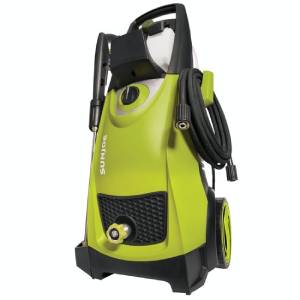 Pros
Powerful 2030 PSI
Affordable for routine cleaning
Two 0.9L onboard detergent tanks
Total Stop System (TSS)
Cons
The plastic wheels are not rugged
Does not have onboard hose storage
How to use Sun Joe pressure washer?
2. Westinghouse WPX3200 Gas Powered Pressure Washer Review
Looking for a commercial pressure washer for your car detailing shop? Look no further. The Westinghouse Washer got you covered. With a 3200 PSI, this model is the best pick for deep cleaning use.
Why Westinghouse WPX3200 Washer?
This product is built for heavy-duty use. However, it provides excellent mobility in a hand truck design. It features a steel tubing frame for longevity. Its axial cam pump is maintenance-free.
You'll also be thankful that it comes with all the necessary accessories. These include the five nozzles, a 0.5gal soap tank, and an EnduraGrasp spray gun. It provides so much convenience that you won't get from many brands in its price range.
Apart from cars, you can clean house siding, gutters, lawn equipment, and more. Since it runs on a 212cc engine, you can expect powerful performance on tough stains. We are talking about tough grease spots in a garage or scum on a concrete driveway.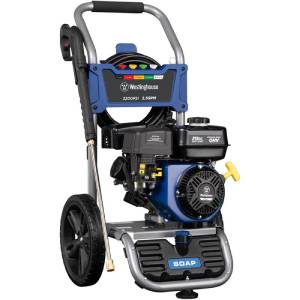 Westinghouse WPX3200 Gas Washer
Pros
Trigger lock prevents accidental operation
Foam-padded grip handle
Includes a spray gun
A thermal relief valve prevents internal pump damage
Cons
It's quite bulky
Customer support is a bit slow to respond
3. WORX WG625.4 20V Cordless Pressure Washer Review
No water or electricity connection. No worries. The Worx Hydroshot is the ideal pick for you. It may not be as powerful as gas or electric washers, but it provides the convenience of using it anywhere.
Why the WORX WG625.4 Washer?
This unit is incredibly light at only 3.7 pounds. It's what you want for small cleaning tasks. Say your vehicle has only a layer of dust. You don't need to bring out a gas model. WORX WG625.4 works perfectly. It packs 320PSI, meaning it is way better than an ordinary hose.
The best thing is that it has a 5-in-1 nozzle. A twist of the nozzle provides fast and easy water angle and spray adjustment.
The WORX WG625.4 Washer can go anywhere, whether you park at your garage or at your driveway. It can draw water from a bucket, lake, stream, puddle, or pool as long as it's a fresh water source. Take it with you on road trips and camping expeditions, knowing you'll have a pristine vehicle in minutes.
WORX WG625.4 Battery Washer
Pros
Three pressure settings
Convenient 5-in-1 nozzle
Super easy controls
Solid metal and plastic housing
Includes a collapsible bucket
Cons
The hose can slip off water source at long lengths
Verdict:
As you can see, each of the three brands fulfills different car cleaning tasks. The Sun Joe XPS3000 is your go-to for typical routine car cleaning. On the other hand, the Westinghouse model is perfect for car detailing shops. For the WORX WG625.4 unit, you'll like it for taking it with you or light cleaning tasks.
Frequently Asked Questions (FAQs)
1. What is a good PSI for a pressure washer?
Pressure is a major deciding factor when choosing the best car wash pressure washer. However, how much pressure you need will depend on how you'll be using the unit. A PSI of 1300-1500 is ideal for washing cars, deck surfaces, and patio furniture. Anything from 2000-4000 PSI can wash large driveways, remove mold and mildew, and is enough for removing paint and graffiti.
2. What is the difference between a power washer and a pressure washer?
Pressure washers and power washers both used highly pressurized water. But a power washer applies heat in its jet. This means it can remove the toughest stains while a pressure washer would struggle in a similar situation.
3. What is GPM in a pressure washer?
GPM refers to the gallons of water coming from the machine. The GPM number on a pressure washer is just as crucial as the PSI. But again, this depends on the job. For example, if you are always tackling tar in your garage, the PSI will be more important than the GPM. However, if you wash many vehicles per day, a high GPM will help you get the job done faster.
Conclusion
Ready to get your vehicle spick and span? Our best car wash pressure washers will get the job done effortlessly. We've covered only the top brands and the best soap for pressure washers to make the job easy and fun. Now, you don't have to spend time and energy scrubbing.
Our reviews are honest and unbiased. Go on and pick your choice.