In the 1970s, a Japanese chemist named Miyoshi Okamoto developed a material that would later rival the dominance of leather in the automobile industry. It is uncertain that Miyoshi could have imagined that his creation would set the coliseum for a battle of car interiors, shaking off leather's firm grip on the premium car interiors market.
Alcantara is a synthetic textile comprising 68% polyester and 32% polyurethane developed in the 1970s and manufactured by an Italian company called Alcantara. We can found Alcantara in car seats, car wheels.
In this article, I bring you the epic battle of Alcantara vs. Leather – who wins?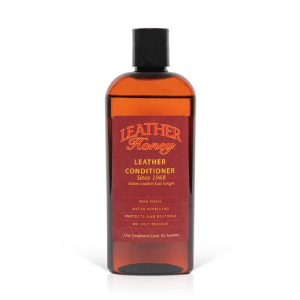 Leather Honey Leather Conditioner
Chemical Guys Leather Cleaner Conditioner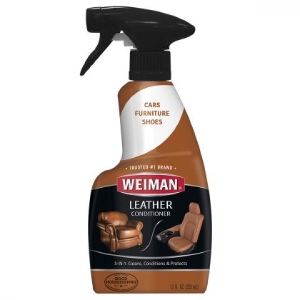 Weiman Leather Cleaner and Conditioner
What's differences between Alcantara vs. Leather?
Alcantara is more breathable than leather while leather is more durable than Alcantara.
Leather easily crack due to sun ray while Alcantara are great for any weather.
Leather is easier to clean and maintenance than Alcantara
Alcantara is more expensive than leather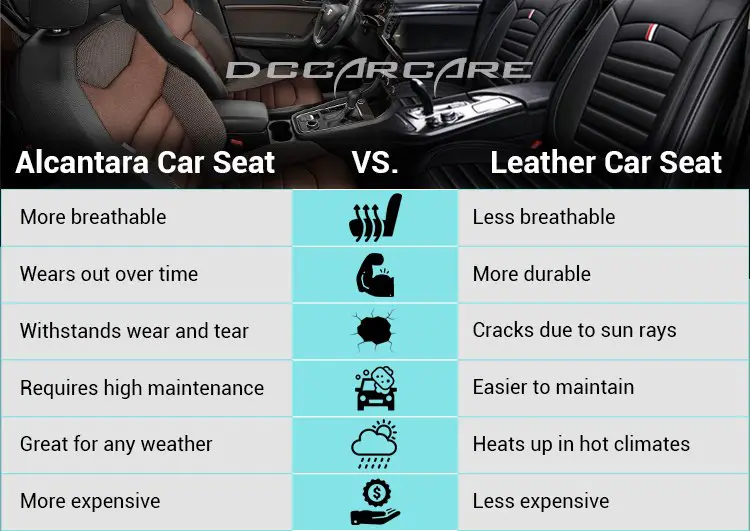 Now, we'll dive into the below detailed comparison :
Which is more breathable?
The winner: Alcantara
The breathability of textile becomes an essential factor during hot summers where "swamp backs/ butts" are regular, particularly for persons prone to sweating.
Interestingly, Leather and Alcantara are both breathable materials. But one proves to be more breathable than the other. We hope to compare and determine which material is more breathable in this Alcantara vs. leather section.
Firstly, there are about four types of leathers used in cars: Aniline, Semi-Aniline, Full-Grain, and Corrected Grain Leather. Each type of leather comes with its level of breathability. But the aniline leathers get more breathable than the heavily pigmented car leather.
Notwithstanding, Suede (which is also a type of leather) is a more breathable fabric than the other types of leather mentioned earlier. Where does this connect with Alcantara?
For starters, Alcantara is composed of about 68% polyester and 32% polyurethane. This composition results in the suede-like look and feel of the Alcantara textile. Also, Alcantara is breathable due to its suede-like characteristics. This is the science behind these textiles. But real-life usage of these upholstery materials may prove otherwise. For this reason, we'd be considering the reviews from some vehicle owners with experience in using these materials.
My friend told me:
"Hands down, Alcantara is the winner. I tend to sweat a lot, and whenever I'm sitting in leather seats, I come out with a wet back and swamp a$$. With my Alcantara, it's MUCH better…often, my shirt's not wet at all when I finish driving."
Backed with the science behind both upholstery materials and real-world reviews from car owners, Alcantara is more breathable than the traditional leather fabrics found in most vehicles.  
Which is more Durable ?
The winner: Leather
Breathability is one aspect, but which of these upholstery materials stands the test of time?
Leather stands out in this aspect, proving to be the most durable amongst the materials. Alcantara is strong, but it does not hold up well in the long run. It wears out a lot faster than leather when exposed to lots of friction.
Which is easily wear & tear?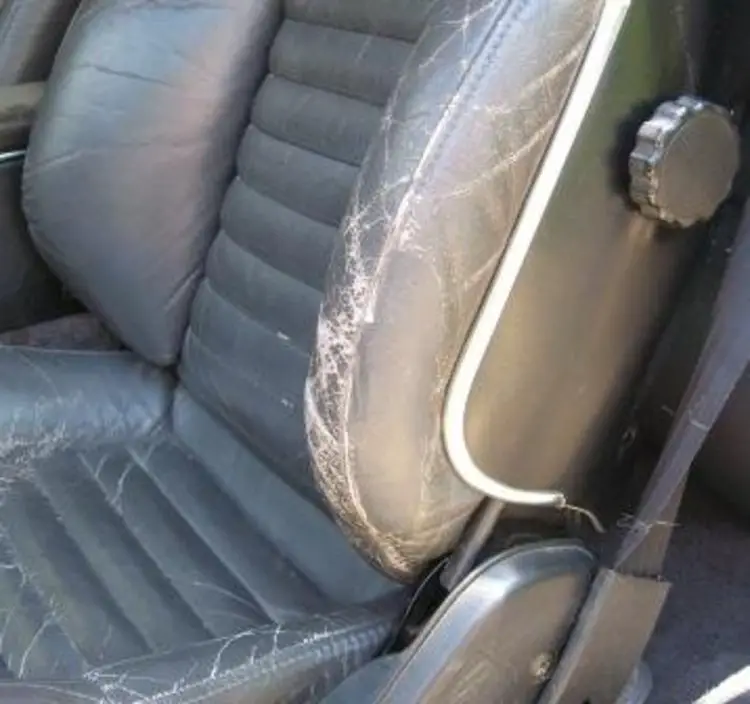 Leather cracks over time when exposed to sun rays. Auto manufacturers prevent leather seats from cracking by equipping their vehicles with mechanisms that help them cool up when heated by the run. 
However, this feature isn't available on all vehicles with leather upholstery. For this reason, in our Alcantara vs. Leather comparison, Alcantara proves much better at handling wear and tear.
Which is easier to clean & maintain?
The winner: Leather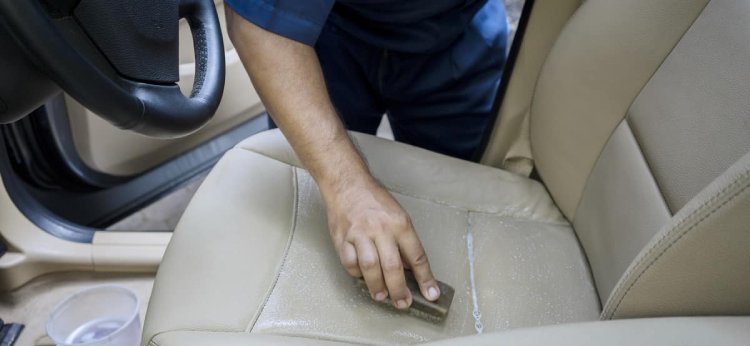 Leather seats are usually thick, so they do not absorb fluids easily. Say you got some water spilled on your leather seats; you could wipe quickly with a towel. Despite this, leather still requires some high maintenance to keep your seats looking as good as new.
On the other hand, Alcantara seats require a higher degree of maintain. They're more likely to absorb stains than leather. And, if your seat gets stained, you have to be gentle with how you scrub it to avoid tears. It would be best if you also had an excellent sweater shaver for your Alcantara. I throw more light on Alcantara cleaning and maintenance. 
The point is, both materials require special maintenance to have them looking at their best. Notwithstanding, it is easier to clean and maintain leather seats than Alcantara.
3 Best Cleaners & Conditioners for Alcantara and Leather car seats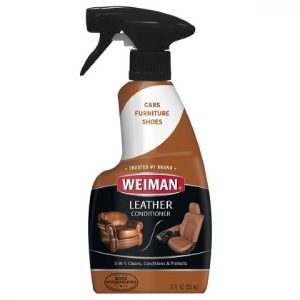 Weiman Leather Cleaner & Conditioner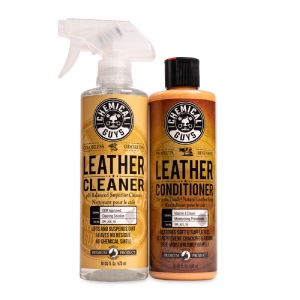 Chemical Guys Leather Cleaner & Conditioner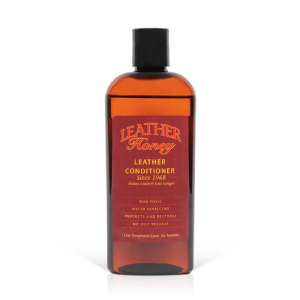 Leather Honey Leather Conditioner
Which is suitable for any weather?
The winner: Alcantara
Alcantara are great for any weather. Made to withstand high pressure and temperature, Alcantara was initially used on Formula 1 vehicles. They're cooler in the summer and warmer in the winter.
On the contrary, leather heat up easily in hot weather, causing cracks over time. They also get pretty cold in the winter. If your vehicle isn't equipped with leather that cool or warms up depending on the climate, leather can be a problem in harsh climates.
Which is worth for money?
The winner: Leather
Here's the truth, Alcantara are overpriced. Popular automobile enthusiast Nick Murray explained that Alcantara is a synthetic material that doesn't cost a lot to produce or buy. When used for car seats, Alcantara's value takes a huge swing despite its cheap production costs.
Genuine leather is expensive. You'll spend more money trying to get your hands on genuine leather than you would on some yards of Alcantara. But for car seats, they switch positions.
Overview of Pros and Cons
So far, we've discussed these upholstery materials' durability, their ability to withstand wear and tear, cleaning and maintenance, price, and weather susceptibility. Now let's look at the pros and cons of these car seats based on our findings.
Alcantara Car Seat
Pros
More breathable
Withstand wear and tear better
Great for any weather. (read/erase codes)
Cons
High priced
Stains easily and requires special maintenance
Wears out on the long run
Leather Car Seat
Pros
Easy to use
Comes with three clay bars
Picks up a lot of grit
Cons
Detailer spray leaves a light blue residue
At this point, we can say the upholstery material with the best advantages would be determined based on your personal preference and needs.
If you're in a location with hot summers and you've got enough cash on you, then Alcantara might play out as a better option. Or you could get a vehicle equipped with heated or cooled seats. So, it all balls down to your personal preference and your budget.
Is Alcantara better than leather?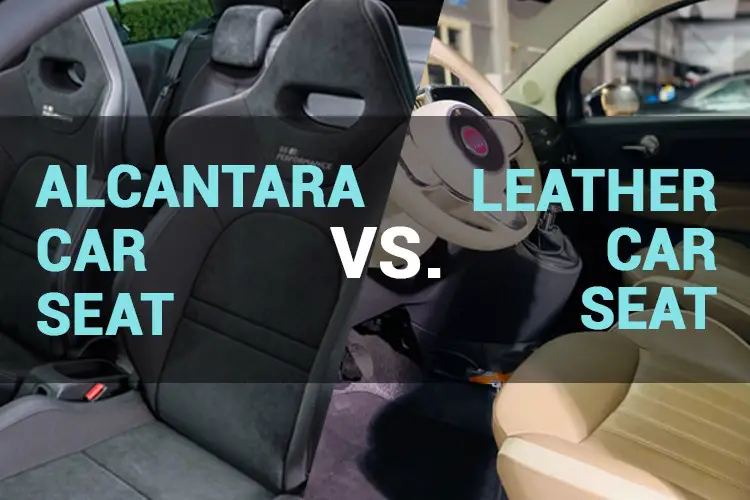 It is therefore clear that Leather and Alcantara are equally advantaged and disadvantaged when compared using our metrics. Although highly pricey, Alcantara requires special maintenance and easily wears out in the long run. Leather, on the other hand, is less costly. It is also less comfortable and durable in extreme weather.
Therefore, to determine the better product to buy, you'd have to consider your personal needs and budget. If you stay in an environment with relatively harsh weather all year round, Alcantara will be better leather. Unless, of course, you are willing to shell out a bit for heated leather seats or consistently maintain air conditioning to keep the seats in good shape. Body factors must be considered. People who sweat easily will prefer Alcantara over its much older alternative. 
Parents with young children will find leather much easier to clean, especially where kids spill things on them. Lastly, paying a premium for a product that costs a fraction of its price to make is not everyone's cup of tea. 
You may concern:
How to Clean Steering Wheel Leather?