If you're like me, you probably use acetone to remove stubborn polish or paint from your nails. You may have even heard that acetone can be used to clean car paint.
But is this true? And if it is, is it safe?
After all, acetone is a powerful solvent that can easily remove paint, so you might be concerned that using it on your car's paint job could cause damage.
In this post, I'll look at acetone and its effects on car paint. I'll also share some tips on using acetone safely if you decide to give it a try.
Keep reading to learn more!
Will Acetone Damage Car Paint?
Yes, acetone is a strong solvent; it will take the protective clear coat off and strip the paint off of the car's surface. This can leave the car's paint job vulnerable to scratches and other damage. Therefore, it is essential to be careful when using acetone in cars.
Its chemical formula is (CH3)2CO, a combination of carbon, hydrogen, and oxygen. This liquid has an extremely low boiling point of 56.3˚C (133.34˚F). This means that it will boil and vaporize at room temperature, producing a highly flammable vapor. 
So you shouldn't leave the affected area unwashed for a long time. Use soap and water to wash the solvent away.
You can buy car wash soap below:
Meguiar's G7101FFP Gold Class Car Wash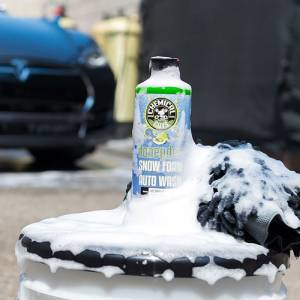 Chemical Guys CWS_110 Car Wash Soap 
See also: Best Electric Pressure Washer For Car Detailing
Does acetone fix car scratches?
No, acetone does not fix car scratches. Scratches are usually caused by something sharp coming into contact with the car's paint job.
To fix light scratches, you can use car polish and scratches remover products.
See also: 3 Common Types Of Car Scratches
What is acetone used on cars?
Degreasing of metal work.
Pre-paint cleaning to get rid of surface grease or grit on auto body parts that can negatively affect the smoothness of the new paint job.
Breaking up of petroleum-based oil sludge.
Removing adhesives, contact cement, fiberglass resins, epoxy resins, uncured lacquers, ink, latex paint, polyester, etc.
How to remove acetone from car paint?
Step 1: Wash the area with soapy water to remove any residue.
Step 2: Use a clay bar or a polishing compound with a soft cloth to remove any haze caused by the acetone.
Step 3: Wax the area to protect it from future damages.
Besides Acetone, What Liquids Will Damage Car Paint?
Many liquids can harm car paint apart from acetone. They can destroy the paint and damage the car's surface permanently if left unwashed after some time. See some of them below.
Vehicle Fluids: Brake fluid and coolant soften car paint fast, thereby making it easy for sustained damage. Wash them off immediately with water and detergent.
Egg Whites and Yolk: They contain materials that can corrode paint. Use water and mild soap to wash the egg away totally.
Shaving Cream: This can cause paint discoloration in foam form and left to dry on the car's surface. Wet the area to clean off the stain.
Wash the affected area as soon as possible when you notice that any of these liquids have poured on the car's surface. Do so with the right cleaning agent. It will be easy to handle fluids that only need the application of a wiping cloth, water, and soap to wash away.
Car Paint Remover
You may want to buy Car Paint Removers. Below are my top recommendation.
Citristrip QCSG801 Paint & Varnish Stripping Gel
Sunnyside Hi-Speed Ready-Strip Citrus Paint & Varnish Remover
Rust-Oleum 255449 Aircraft Remover
---
You may concern: Rubbing Alcohol On Car Paint